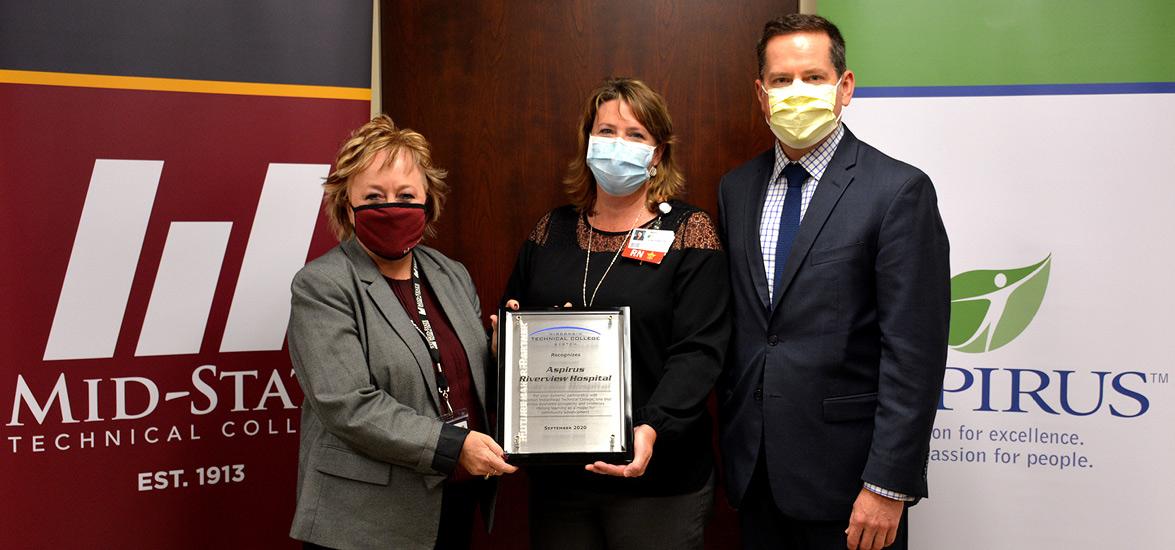 Aspirus Riverview Hospital and Clinics recognized as Futuremaker Partner for Mid-State Technical College
September 16, 2020
The Wisconsin Technical College System Board and Mid-State Technical College honored Aspirus Riverview Hospital and Clinics on Wednesday with the 2020 "Futuremaker Partner" award. Beyond their ongoing 30-year collaboration to provide skills education for Mid-State program students and Aspirus staff, the partners are innovating to expand workforce participation in the region.
"We are so lucky to have this 30-year partnership with Aspirus Riverview Hospital and Clinics," said Mid-State President Dr. Shelly Mondeik. "Honoring them with the Futuremaker Partner award highlights our appreciation for the innovation exemplified in our work together. From the way they open their doors to Mid-State to our ongoing conversations to see what we can do together to produce the highest quality graduates, it's an amazing collaboration that is essential to our local economy."
Aspirus has long looked to Mid-State to enhance the skills of its existing workforce and recently expanded that relationship by stepping forward when the College sought to expand simulation capabilities. The resulting partnership will reduce barriers to healthcare training and meet the region's healthcare workforce needs through a state-of-the-art, interdisciplinary healthcare simulation center on the third floor of Aspirus Riverview Hospital in Wisconsin Rapids. The project, which also includes a collaborative grant from The Legacy Foundation, will create a destination healthcare simulation center located within the hospital setting, providing student simulation training, community training and opportunities for Aspirus to train in-house.

It's an honor to receive this award on behalf of Aspirus Riverview Hospital and Clinics," said President Chris Stines. "Mid-State Technical College is a trusted and valued partner who delivers on our shared goal of ensuring a world-class education supporting our local healthcare workforce."

In addition to the many ways Aspirus works with Mid-State to expand healthcare training for its existing workforce and the region, Aspirus makes service on the College's advisory committees a priority for its employees, creating and modifying curriculum for programs from nursing to respiratory therapy to emergency medical services and more. The organization's willingness to offer its staff's time and expertise ensures Mid-State provides relevant, up-to-date education for students. 

Aspirus also supports clinical preceptors and instructors, allows MedEvac employees to share their skills through instruction and hires Mid-State health and EMS graduates, often furthering their development with assignments in their ground or air-based critical care unit.

"The Board's Futuremaker Partner Award highlights the unique, dynamic and enduring connections between Wisconsin's technical colleges and the employers with whom they work so closely," said Wisconsin Technical College System Board President Becky Levzow. "The positive outcomes of these employer connections ultimately benefit our students, graduates and communities throughout Wisconsin."
Beyond its work to innovate with Mid-State to enhance training and provide related support for ongoing skill development, Aspirus has provided critical financial support for Mid-State students through Mid-State Foundation Board service and sponsorships of Foundation fundraising events and scholarships.