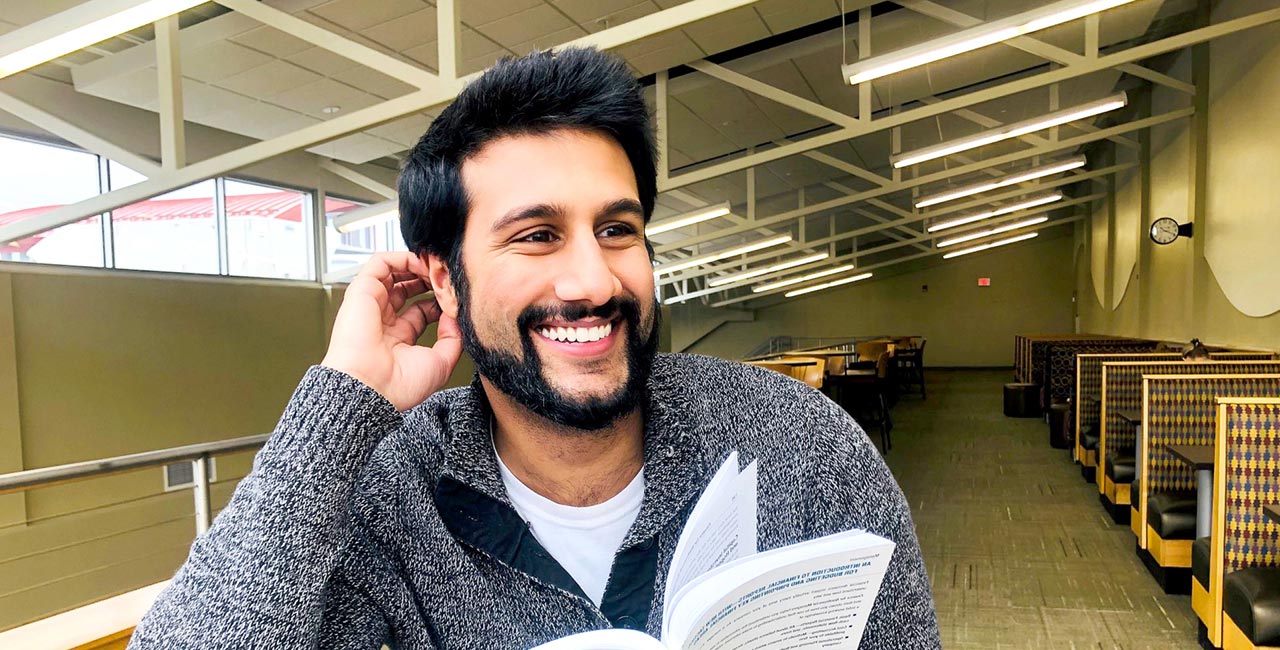 Graduate Spotlight - Vikram Gill
Vikram Gill
Business Management, May 2019
"I wasn't really in the market for making any new friends. I wanted to come to school, do my class work, and then leave…. Becoming involved in student life wasn't really the plan."
Vikram Gill was at a crossroads. Placed on academic suspension after two unsuccessful attempts at his university, he was forced to take two years off before he could reapply. He was faced with a choice: Continue working in jobs he didn't love, or give education another chance. At the advice of his significant other, Jeff, he decided to enroll in the 2017 summer term at Mid-State, and before long what was meant to just be a quick reset turned into a life-altering experience and unimagined opportunity.
Excited for the Business Management program, Vik was delighted to find that he could take all of his classes on Mid-State Technical College's Stevens Point Campus. And he came in expecting a couple of things: that he would struggle in business classes and really enjoy online classes. He was proven wrong on both counts, excelling in his economics class—he credits the instructor for making it fun to learn—and realizing that while online classes are a great choice for some, he needed face-to-face communication. "I'm an audio learner," says Vik. "Discussions really help me retain information the best."
It would not be the last major personal insight for Vik, who would soon find himself exploring and taking advantage of all Mid-State had to offer, even if he wasn't expecting most of it.
"I wasn't really in the market for making any new friends," he says. "I wanted to come to school, do my class work, and then leave…. Becoming involved in student life wasn't really the plan." Already involved in a 12-step fellowship for people struggling with addiction, Vik had plenty on his plate with his roles on various boards and committees and even the friendships he had already made there.
But Vik came to appreciate and embrace a wide variety of what he describes as "opportunities for personal and professional growth" at Mid-State. As a campus representative and student ambassador, he was able to network and get to know a variety of people throughout the College. Through those connections, he secured an internship with Mid-State's Human Resources department, where he made some good friends. "Not only did I make connections," he says, "I also gained some personal clarity and came to the realization that I want to pursue a career in higher education, maybe student life."
Adding to his Mid-State roles, Vik was later selected to serve as Mid-State's 2018–19 WTCS Ambassador, a rare honor awarded to one student from each Wisconsin technical college each year. Recognizing and rewarding outstanding students, this statewide Wisconsin Technical College System program aims to develop a greater public awareness and appreciation for the high-quality system of technical education.
In this new and important role, Vik was suddenly moving in influential circles while representing the College at a state-wide conference with other ambassadors. This, says Vik, was his favorite memory from his time at Mid-State. "I got to meet 15 other exceptional students from around the state and participate in leadership and networking sessions. I'm grateful for the opportunity to maintain those relationships and to share my story with people within the Wisconsin Technical College System."
After graduating, Vik is excited to continue his education by pursuing a bachelor's degree at the University of Wisconsin–Stevens Point with minors in both French and Spanish. (His major is still up for debate, but he aims to make that decision by the end of this summer.)
For now, he is looking forward to Mid-State's graduation ceremony, where friends and family can see the payoff for all of his hard work. And he has some advice for any student struggling to adapt to college life: "Reach out for help when you're struggling, be grateful for what you have and the opportunities that you're given. Don't take for granted the opportunities to grow and to mature."