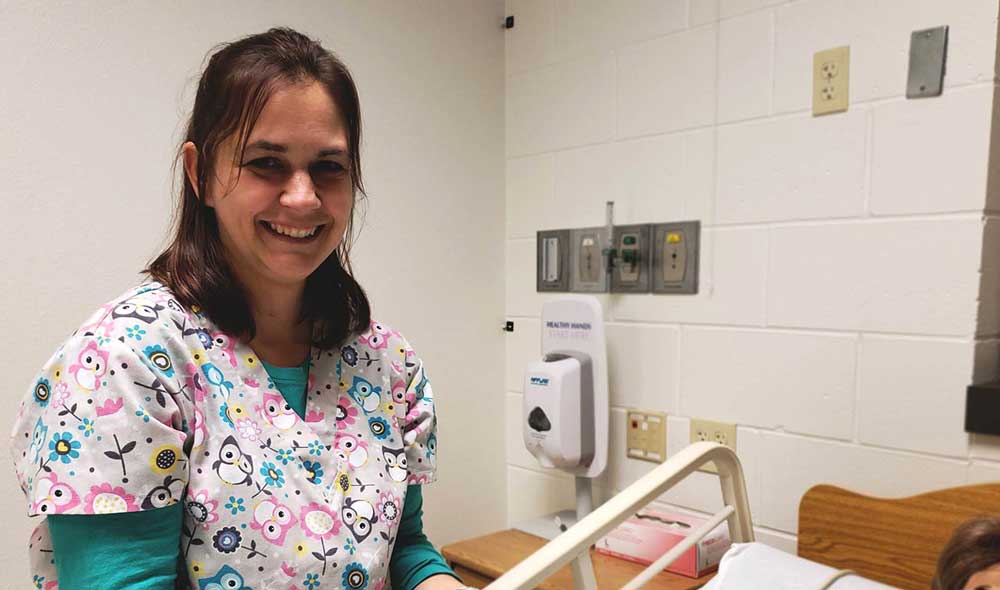 Graduate Spotlight - Rachel Knapp
Rachel Knapp
Medical Assistant, December 2018
"I have really awesome classmates. We are very good at motivating each other. It's tough love—we are always pushing each other to succeed."
About a year ago, Rachel Knapp had a decision to make. Either go to work full-time or go back to school. Wanting a better life for herself and her children, she chose school and more specifically Mid-State Technical College.
Rachel was familiar with Mid-State. She had tried a couple of different programs in the past, completing some of her general education courses. This time, she knew the Medical Assistant program was the right fit for her, given her passion to make people feel better. However, this journey has been anything but easy for Rachel.
Two years ago, Rachel, her six children, and her fiancé were in a car accident. Her fiancé did not survive, and Rachel spent two weeks in the hospital with multiple injuries requiring physical therapy to relearn many things. Thankfully, her six children survived, with a few bumps and bruises.
When asked what was the most challenging part of her life as a student, Rachel smiles a little and says, "Trying to get six kids up, ready, and where they need to be, let alone getting to my own class on time." But her children are what has kept her going, not only for support, but to show them not to quit when it comes to chasing your dreams.
Rachel credits the people at Mid-State and the people in her life for where she is today, successfully completing her program. "I have really awesome classmates" says Rachel, "We are very good at motivating each other. It's tough love—we are always pushing each other to succeed."
One of Rachel's favorite memories of Mid-State is the professional conference she and her classmates attended. Aside from the great information and networking they experienced, the time outside of the conference was amazing. "My belly hurt from laughing so hard," she says.
As for what's next, Rachel looks forward to graduating and being independent. She says right now there are nine of them in a small house, so she is excited to get her own place and get into a routine. For now, she is excited to walk across the stage in December and is proud to have proven to her kids—and herself—that she could do it.