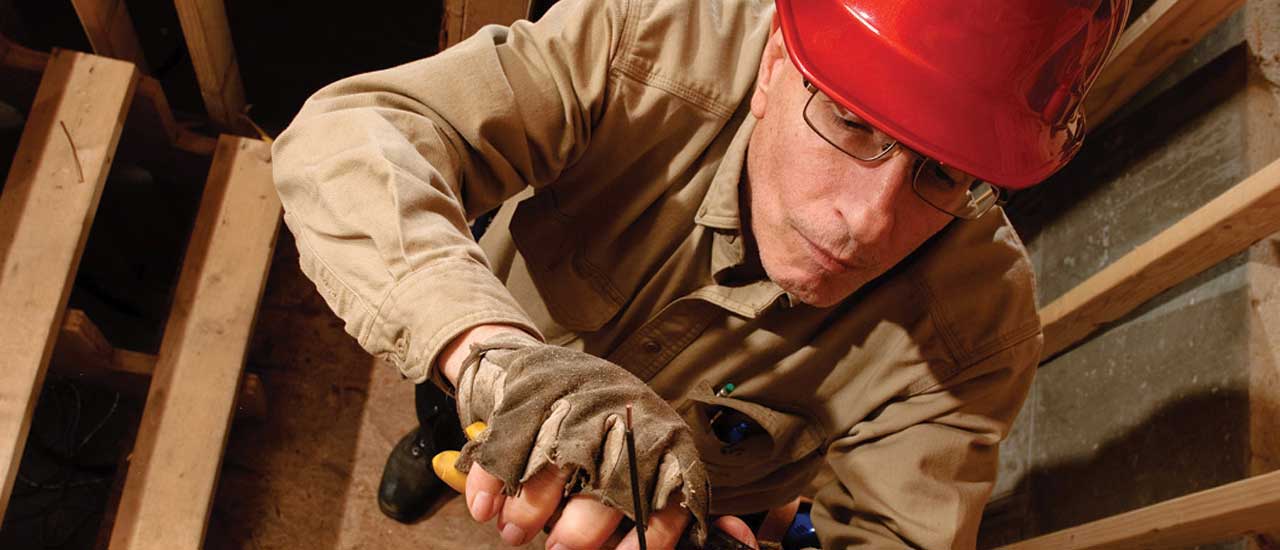 Construction Electrician (IBEW-NECA) Apprenticeship
Construction electricians install, connect, test, and maintain electrical systems for a variety of purposes, including climate control, security, and communications. 
Construction electricians typically:
Use a variety of electrical equipment and apply appropriate techniques to plan wiring installation from blueprints.
Wire a building's electrical system.
Properly locate boxes and outlets and test continuity of electrical circuits to ensure compatibility and safety of components following national electrical code and complying with state and local building codes. 
Install coaxial or fiber optic cable for computers and other telecommunications equipment.
Work Conditions

Electrical work can be indoors or outdoors. The work is sometimes physically strenuous, requiring prolonged standing in cramped or uncomfortable positions. Electricians may work in dusty, dirty, hot, and wet conditions, or in confined areas, ditches, or other uncomfortable places. The working environment varies with each job and may include working on ladders and scaffolding. Electricians follow strict safety procedures to prevent injuries from electrical shock, falls, and cuts.

Training

5-year program
8,000 hours of on-the-job learning
700 hours of paid related instruction
200 hours of unpaid related instruction

Application Requirements

To qualify for this apprenticeship opportunity, applicants must meet the following requirements:

Age: 18 or older before the time of assignment
Education: 

High school diploma or equivalent before the time of assignment
Have completed one full year of high school algebra with a passing grade of "C" or one post-high-school algebra course with a passing grade of "C"

Aptitude Testing: Attain established norm on the NJATC Apprentice Selection Test Battery
Physical Ability: Be physically able to perform electrical construction work and pass a drug screen test.
Other: Be able to get to school and work on a timely and consistent basis.
Application: Applicants apply directly to participating sponsors.
Get Started
If you meet the application requirements listed above, do the following to get started:
Visit Wisconsin Department of Workforce Development and select Wisconsin River Valley Electrical JAC to learn more.

Obtain direct employment through a company that operates an apprenticeship program or a similar sponsorship.

Contact Raquel Nowak to learn about the application process:

Raquel Nowak
Apprenticeship Training Representative | Area 4
Bureau of Apprenticeship
Wisconsin Department of Workforce Development
715.323.6322
Email