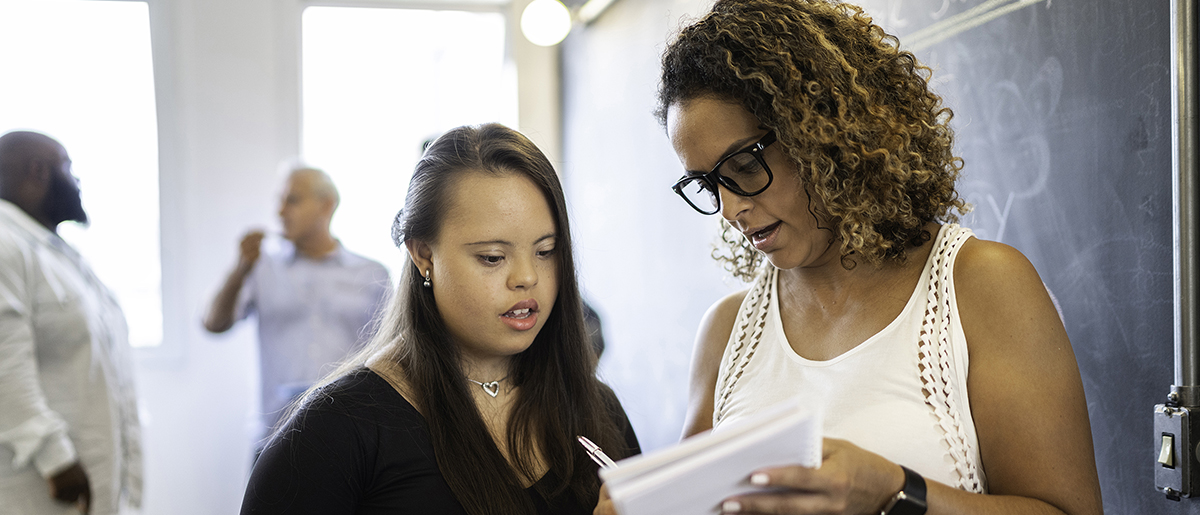 Mid-State believes that you belong here. This series of exploratory sessions allows adults of all abilities to have an authentically inclusive college experience. Participants will experience technical college activities and learn about Mid-State's academic programs in a way that will be adapted for adults with disabilities. There are six sessions representing different areas of the college.
Monday, March 6
10:00 a.m.
IT – Software Developer Program
Stevens Point Campus
Do you have a favorite website? Join IT-Software Developer Instructor Brent in building a cool website. See how websites are made!
Thursday, March 9
10:00 a.m.
Health & Wellness Promotion Program
Stevens Point Metro Market
Play MyPlate BINGO with Carrie, all while learning about nutrition to help us stay healthy. Session will take place at Metro Market (1500 Pinecrest Ave in Stevens Point).
Monday, March 13
10:00 a.m.
General Education – Mathematics
Stevens Point Campus
How are math and board games alike? Whether it's strategy, problem solving, logic, patterns, or numbers, there's a board game to fit your favorite mathematical characteristic! Come play cooperative, team, strategy, or party games with math instructor Maggie!
Monday, March 20
10:00 a.m.
Student Life
Stevens Point Campus
Meet the Mid-State mascot Grit, and learn about all things Student Life with Vik and Michelle!
Monday, March 27
10:00 a.m.
General Education – Written Communication
Stevens Point Campus
Do you love Mad Libs, comics, or funny poems? Come to this word-based session to create some individual or cooperative pieces of writing with our communication instructor Desiah!
Friday, March 31
10:00 a.m.
Global Education
Stevens Point Campus
Take a trip abroad without leaving Mid-State! We'll decide where to go, what to do, and what to pack as we prepare for our adventure with Global Education trip leader and social science instructor Jon.
Scholarship Opportunity for Cookie Decorating Basics Course
Students who complete at least four Career Awareness sessions will receive a scholarship to the Cookie Decorating Basics course ($26 value). 
Cookie Decorating Basics
Learn how to decorate cookies like a pro, while learning the basics of royal icing and piping techniques! Students will be provided with a set of cookies to decorate during class to take home and share. This class will be adaptive to create an inclusive environment for all learners.
Register for this course in-person during any of the Career Awareness sessions.
Wednesday, April 18
10:00 a.m. – Noon • Stevens Point Campus
Capacity: 20 Participants
Instructor: Kelly Lawler
Questions?
Contact Ben Nusz or call 715.342.3115.
If you have a disability and require accommodations to participate in this activity, contact the event coordinator as soon as possible, ideally 14 days in advance.