Rafters Meet-and-Greet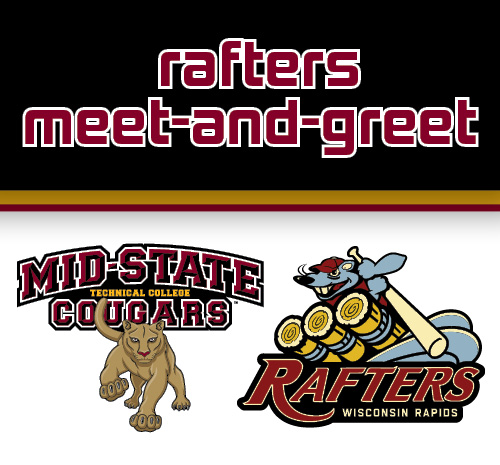 Location
Wisconsin Rapids Campus
Join WFHR and Mid-State Technical College on June 7 to meet the 2022 Wisconsin Rapids Rafters baseball players. The event is free, and everyone is welcome!
First 300 fans get complimentary hot dogs, chips, and a cup of Mid-State's Cranberry Cougar Swirl ice cream.
Get autographs from the players and meet the mascots—Grit and Rosco P. Rafter.
Compete in games and contests to see if you can outperform a ball player—can you jump higher than a Rafter?
Experience some of Mid-State's coolest offerings.
Join us!
When
Tuesday, June 7, 2022
5:00 – 7:00 p.m.
Where
Wisconsin Rapids Campus
Questions?
Contact Angie Morgan or call 715.422.5422
If you have a disability and require accommodations to participate in this activity, contact the event coordinator as soon as possible, ideally 14 days in advance.
All Events