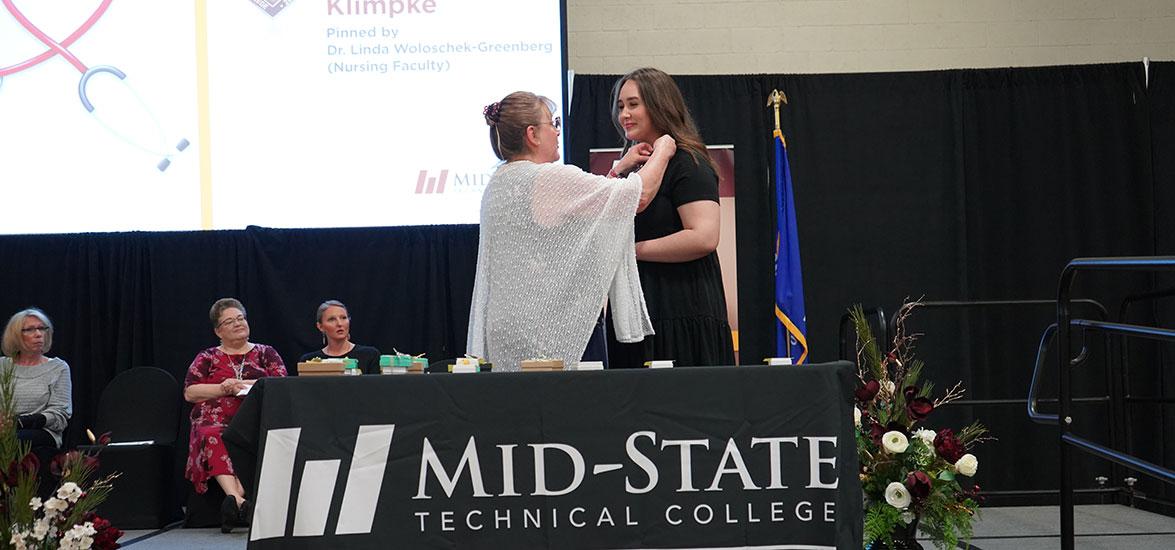 Nursing graduates recognized in Mid-State's spring 2023 pinning ceremony
May 16, 2023
Mid-State Technical College recognized the achievements of its 30 Nursing program completers in a pinning ceremony May 13 on the Wisconsin Rapids Campus. Graduates were joined by their family and friends in the celebration.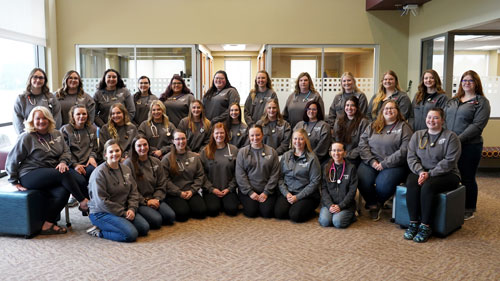 "The Nursing program has been an intense journey," said Courtney La Chapelle, Nursing graduate. "I have learned more than I ever thought I could, and it's helped me prepare for my dream job as an ER nurse. As I counted down the days to today's pinning ceremony, I can confidently say it was all so worth it."
The nursing pinning ceremony is a celebratory endcap to a nursing student's academic career and a bridge between nursing school and a nursing career. It honors and celebrates nursing students and their journey to becoming a nurse. It is also a day of celebration for the nursing faculty who have helped the students reach their goals. 
"For a long time, the thought of a nursing degree was just a dream," said Hillary Bowden, Nursing graduate. "I never thought I would be where I am today. Mid-State has brought nothing but growth for me. I feel I have grown as an individual here and am proud so say I graduated from Mid-State."
For Mid-State's pinning ceremony, each graduating student selects a registered nurse who is a family member, friend or faculty member to join them on stage to place the nursing pin on the graduate during the ceremony, welcoming them into the profession of nursing. While the graduate is being pinned a recorded message from the student is shared with the audience. The Nursing graduates also take a vow to always help those who are sick or injured.  
"It is fitting our nursing pinning celebration takes place on the heels of National Nurses Week, which was May 6-12," said Associate Dean of Health Deb Johnson-Schuh. "National Nurses Week is a celebration of nurses and their contributions to healthcare. The nursing pinning ceremony is a celebration that signifies the successful completion of the nursing program and initiation into the profession."
According to Johnson-Schuh, the demand for nurses is higher now than ever before. "Some of the contributing factors of the high demand relates to retiring nurses, aging population and patients with more complex medical problems and the need for mental health services," she said. "These future nurses are stepping into a career that gives them the opportunity to make a difference in so many lives. Our community is lucky to have such bright nurses entering our healthcare organizations."
"There's lots of happy people here today to celebrate all the accomplishments," Johnson-Schuh added. "The students are excited to complete their educational journey at Mid-State Technical College, the nursing faculty are excited to welcome these graduates into the profession of nursing as colleagues, and the College is proud of fulfilling their mission of transforming lives."
Mid-State's nursing pinning ceremony stems from a proud tradition reaching back to Florence Nightingale in the 1860s, the first nurse to receive a pin when she was awarded the Red Cross of St. George for her work in the Crimean War. Nightingale in turn honored outstanding nursing graduates with a medal of excellence, which in time inspired a tradition in the US to award all graduates with a pin, beginning in 1880 with Bellevue Hospital School of Nursing in New York City. By 1916, pinning had become a common practice in schools of nursing throughout the United Kingdom and the United States.
The actual pin used in the nursing pinning ceremony is unique to each school, incorporating a design that symbolizes the school's beliefs about nursing. The Mid-State pin has both a lamp and a book, the lamp being a traditional symbol of excellence that dates back to Nightingale, also known as the Lady with the Lamp.
Following are Mid-State's spring 2023 Nursing graduates recognized in the May 13 nursing pinning ceremony. 
Cassondra Andrew – Stratford    
Bailey Bargender – Marshfield
Rebecca Bohn – Wautoma         
Hillary Bowden – Wild Rose
Anna Crawford – Junction City
Gabriella Czlapinski – Plainfield 
Nadine Draeger – Chili 
Katrina Dunbar – Stevens Point
Alyssa Elsen – Vesper 
Maranna Ferkey – Wisconsin Rapids
Amanda Frederick – Merrill 
Courtney Geschke – Stevens Point
Hailee Hintz-Kehrberg – Wisconsin Rapids
Savannah Klimpke – Marshfield
Samantha Kluck – Custer
Courtney La Chapelle – Wisconsin Rapids
Sarah Meshak – Stevens Point
Megan Munro – Wisconsin Rapids
Allison Nelson – Neillsville
Brittney Osowski – Wisconsin Rapids
Laneli Patino – Wisconsin Rapids
Kelsey Powell – Nekoosa 
Alyssa Puccio – Cottage Grove
Kelly Smith – Stevens Point
Sierra Steinmetz – Elroy 
Tammy Sweet – Wisconsin Rapids
Stacy Taylor – Wisconsin Rapids
Hannah Vera – Wisconsin Rapids
Kendall Weaver – Wisconsin Rapids
Lydia Will – Stevens Point
Learn more about Mid-State's Nursing program at mstc.edu/programs.