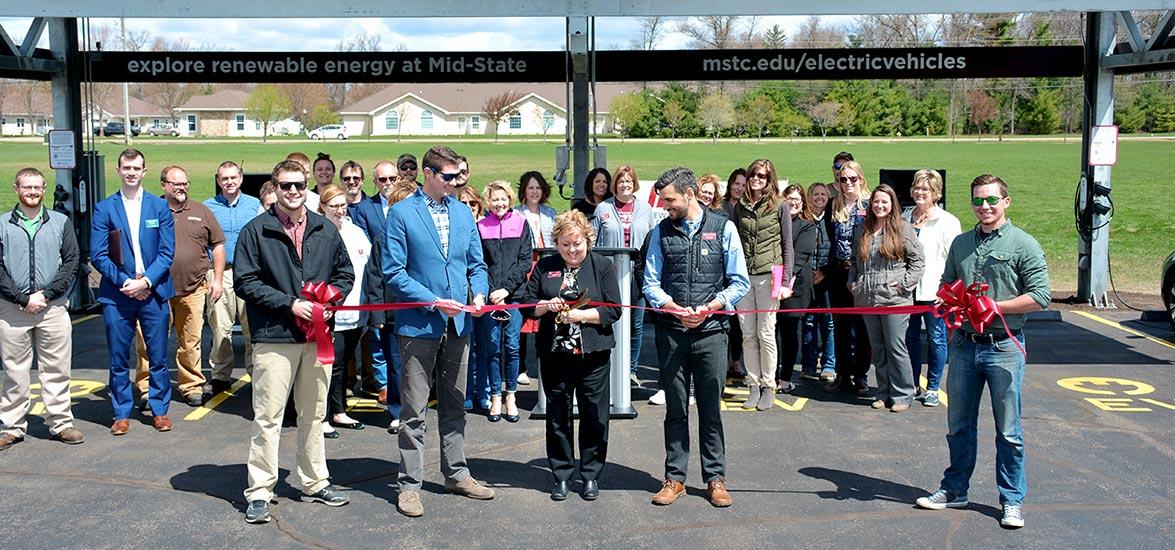 Mid-State Technical College cuts ribbon on new solar car charging station
May 10, 2019
Free electric vehicle charging is now available in Wisconsin Rapids thanks to a new solar-powered car charging station on the Wisconsin Rapids Campus of Mid-State Technical College. A May 10 ribbon cutting ceremony featured remarks from Mid-State President Dr. Shelly Mondeik and Wisconsin Rapids Mayor Zach Vruwink as well as on overview of the project and station demo from Mid-State Renewable Energy Instructor Ben Nusz.
Located at the northwest corner of the Wisconsin Rapids Campus parking lot, the station's power is generated entirely from the solar array installed at the site, making the energy 100 renewable and clean. Six Level 2 charging stations are available, and all cords are SAE J1772. It is the first electric vehicle charging station in central Wisconsin south of Wausau.
"As we look to use more renewable energy sources, this solar and other types of electric vehicle charging stations will become very important for our communities," said Mondeik. 
"From an innovation standpoint, this community's future will be brought about through new innovation, and to have students right here to be trained to be able to take this technology and grow businesses and start businesses and grow jobs in the region is really exciting," said Vruwink. "Congratulations to Mid-State, congratulations to our fine city," he added. "I believe it's going to be the first of many new innovations in our area."
Construction on the site began in September 2018, following funding from a Constellation Energy through an E2 – Energy to Educate grant. The solar array was then installed over the 2018–19 school year by Mid-State's Renewable Energy Technician students, with assistance from North Wind Renewable Energy Cooperative. The solar rack was manufactured by Sinclair Designs and Engineering, and all solar panels donated by Panasonic Solar. Thanks to continued contributions, the College plans to construct electric vehicle charging stations at its other three campuses this fall.
"North Wind is proud to partner with Mid State Technical College on this exciting, forward-looking solar carport and electric vehicle charging project," said Doug Stingle, solar consultant at North Wind Renewable Energy Cooperative. According to Stingle, with electric vehicle sales growing 83 percent in 2018 alone, powering these vehicles with solar energy is good for the planet and economic development. "The Mid-State students who worked on this project are primed to join the growing clean energy workforce, and North Wind is proud to have many former Mid-State students on staff," Stingle said. "We look forward to future graduates joining the team."
Constellation Energy's E2 Energy to Educate grant program offers students in grades 6–12 and college opportunities to experience problem-solving today's and tomorrow's energy challenges. Grant funds support projects designed to enhance students' understanding of science and technology and inspire them to think differently about energy.
Those who appreciate the use of Mid-State's free solar electric vehicle charging station are encouraged to donate to the Mid-State Foundation. For more information about Mid-State's solar-powered electric vehicle charging station, visit mstc.edu/electricvehicles.