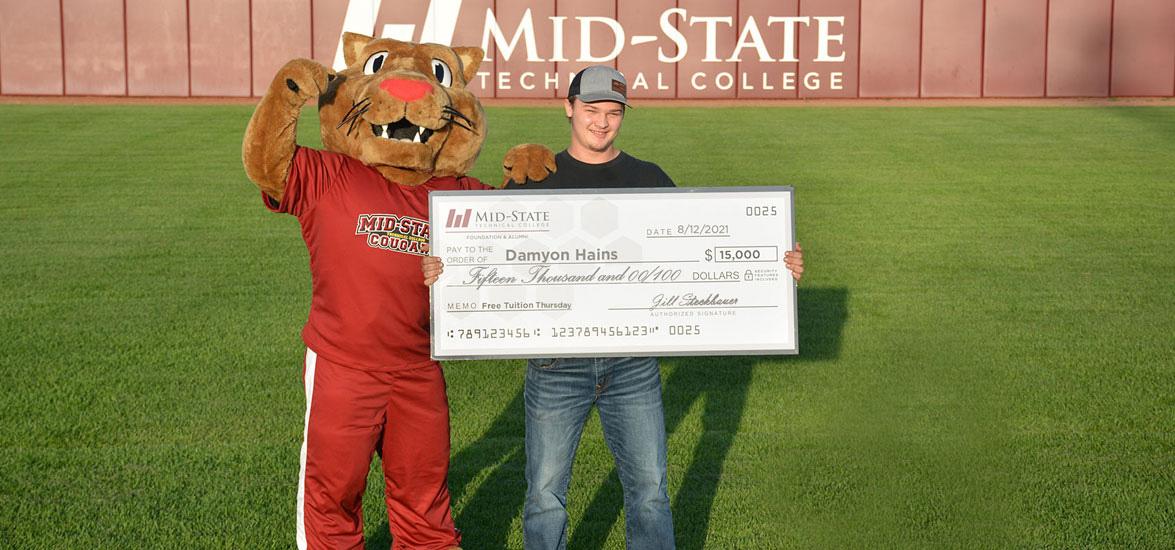 Mid-State student wins full-ride scholarship in College's Free Tuition Thursdays promotion
August 19, 2021
Mid-State Technical College has announced the first-ever winner of the $15,000 grand prize in its Free Tuition Thursdays contest. Diesel & Heavy Equipment Technician student Damyon Hains, Granton, learned of his win during the third inning of the Rafters' Aug. 12 home game against the Green Bay Booyah.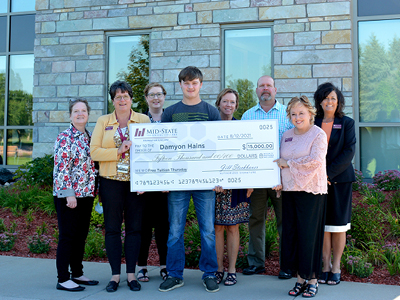 Free Tuition Thursdays is Mid-State's summer promotion offered in conjunction with the Wisconsin Rapids Rafters baseball team, with scholarship funding made possible by the Mid-State Technical College Foundation. Since the contest was first offered in the summer of 2018, there have been many randomly selected winners of the $500 scholarship, which also includes complimentary Solarus Founders club all-inclusive tickets to a Rafters game and a chance at the $15,000 prize—the average cost of two years of tuition at Mid-State. The catch? During the contestant's designated game, the Rafters pitcher must strike out the first three consecutive batters of the opposing team at bat during the third inning without any of the batters reaching base (three up, three down).
A recent graduate of Marshfield Senior High School, Hains is the first to be an automatic winner of the free tuition grand prize. His award will offset any cost of his attendance at Mid-State while he pursues his associate degree. Any amount remaining will be disbursed according to the Mid-State Foundation scholarship process. 
Hains' mother submitted his name for Free Tuition Thursdays earlier this summer without his knowledge. "I didn't even know until four hours before the game that I was even entered, and I definitely wasn't expecting to win," he said.
A lot of foul balls in that crucial third inning "made it a little scary," he said, especially given the financial situation he and his mother were facing as he prepared to start this fall in Mid-State's Diesel & Heavy Equipment Technician program. 
"It means so much to me to win this scholarship," he said. "All the money my mom and I have been trying to save up—it takes a lot of weight off our shoulders. This will allow me to go to school stress free and not have to worry about making the payments. I can just come here and enjoy myself learning in my diesel classes."
Hains' interest in diesel technology started in childhood and took off in his sophomore year at Marshfield Senior High School, when he completed a year-and-a-half youth apprenticeship with Roehl Transport in Marshfield. He has since gone on to work as a diesel technician for Hill Road, LLC, in Chili, a custom shop specializing in heavy equipment and 4x4 builds. 
"I love working on trucks and making them faster," he said. 
Hains now plans to complete the diesel associate degree at Mid-State and see where his work for Hill Road takes him. He is also working on attaining his commercial driver's license so he can drive truck and run heavy equipment.
"It's a joy and a privilege to be able to bring creative, fun, engaging ways for students to receive funding for their education," said Foundation & Alumni Director Jill Steckbauer. "Free Tuition Thursdays and this $15,000 prize allow us to be a game-changer for students on their path to achieving an in-demand degree from Mid-State."
Free Tuition Thursdays is now concluded for the summer season, but Mid-State and the Rafters are in talks to bring it back next summer. Those looking to enter can follow Mid-State's Facebook (@MidStateTech) and Twitter (@FollowMSTC) for announcements as summer 2022 approaches. Learn more about Mid-State's degree opportunities at mstc.edu/programs.