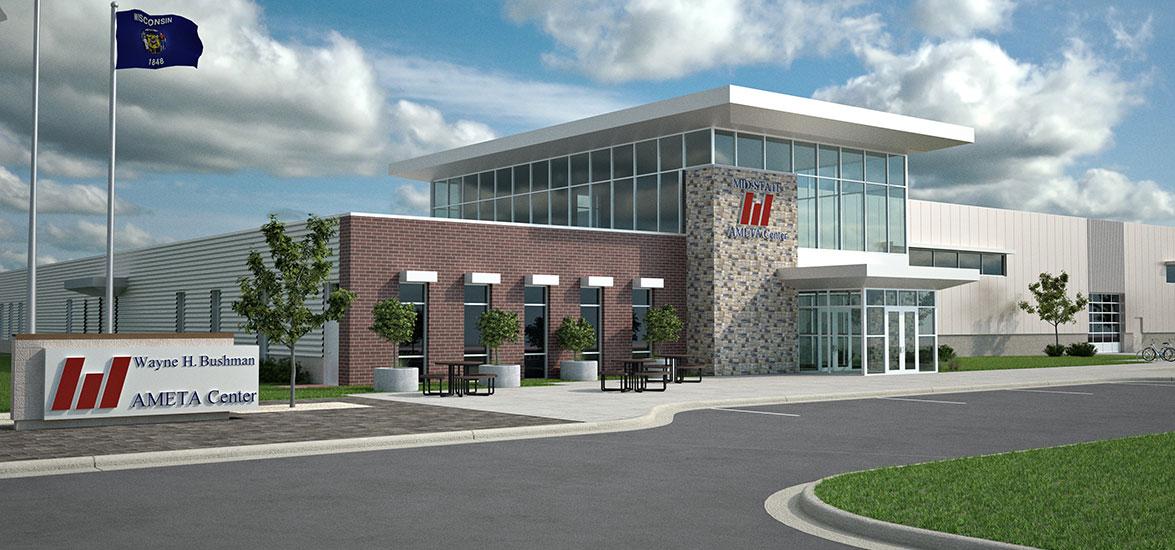 Mid-State's AMETA Center to receive $2 million from U.S. Department of Commerce
March 22, 2023
The U.S. Department of Commerce Economic Development Administration (EDA) is awarding a $2 million grant to Mid-State Technical College to support the development of the College's Advanced Manufacturing, Engineering Technology and Apprenticeship (AMETA) Center. The award was announced in an EDA press release in early March.  
Located on I-39 in the Stevens Point Industrial Park, the AMETA Center will be an extension of Mid-State's Stevens Point campus. It is expected to serve over 1,500 people per year through advanced programming to traditional technical college students and high school students, incumbent worker training and new equipment and technology advancement demonstrations for central Wisconsin businesses. This EDA project is expected to create or retain more than 760 jobs and generate $2 million in private investment, according to grantee estimates.
AMETA Center campaign manager and Mid-State Vice President of Workforce Development & Community Relations Bobbi Damrow, Ed.D., noted the award will allow Mid-State to outfit the AMETA Center with relevant state-of-the-art workforce training equipment required to meet the level and types of skilling the college's industry partners are asking for. 
"There are 125 industry partners already investing in this new Center, including local, county and state government, so now receiving federal support really makes this project a collaborative win for students, employers and communities," Damrow said. 
"This EDA award is an example of President Biden's commitment to investing in our workers and rebuilding American manufacturing," said Secretary of Commerce Gina Raimondo. "With the assistance of this federal funding, Mid-State Technical College will create more educational and workforce opportunities for local students, help meet industry demand for skilled workers, and create new economic opportunity and jobs in Wisconsin."
"Here in Wisconsin, we're working to make smart, strategic investments to support working families, strengthen our workforce and maintain our economy's incredible momentum, and that's why I'm proud to support the new AMETA Center in my 2023–25 Biennial Budget proposal," said Governor Tony Evers. "This new facility will bring new jobs and countless opportunities to Central Wisconsin, and we appreciate our federal partners for recognizing the value of this center and for their support."
Mid-State Technical College President Shelly Mondeik, Ed.D., noted that the U.S. Department of Commerce's support combined with continued legislative advocacy from U.S. Senator Tammy Baldwin and recent support from Congressman Van Orden will bring the AMETA Center to full fruition. "This will change the lives of many and bring state-of-the-art, industry 4.0-related skilling to central Wisconsin," Mondeik said, adding, "We are also appreciative of Governor Evers' confidence and continued support for this project."
Mid-State was supported in the grant by the North Central Wisconsin Regional Planning Commission (NCWRPC). EDA funds NCWRPC to bring together the public and private sectors to create an economic development roadmap to strengthen the regional economy, support private capital investment and create jobs.
The AMETA Center is slated to open for students in fall 2024. Learn more at mstc.edu/partner. Read the full EDA press release at www.eda.gov/news/press-release/2023/03/09/us-department-commerce-invests-2-million-support-educational-training.