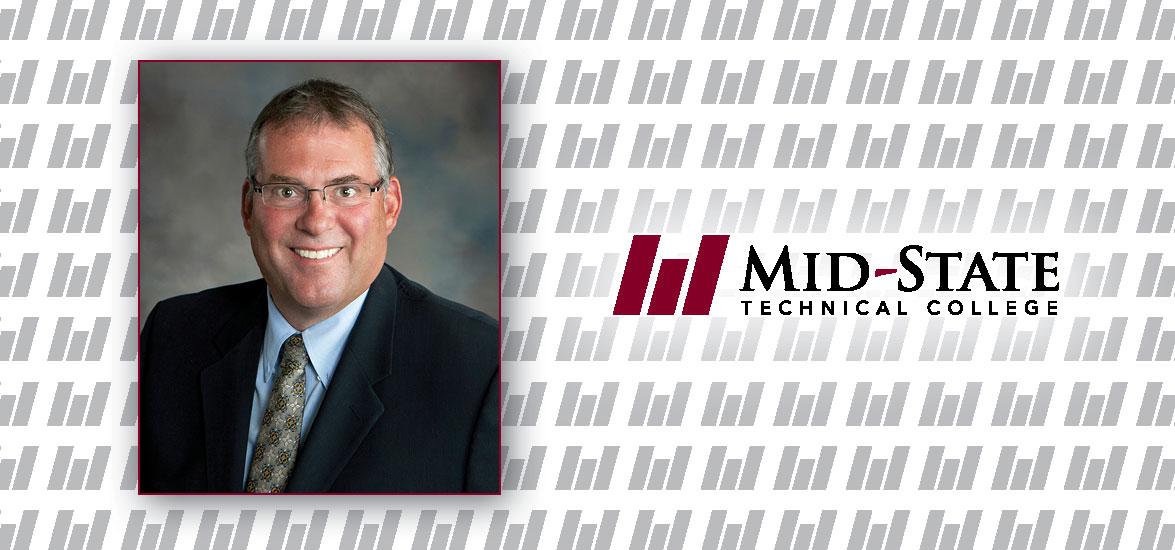 Mid-State benefactor Joe Kinsella receives statewide 2022 Technical Education Champion Award
June 20, 2022
Longtime supporter of Mid-State Technical college and founder of Pointe Precision Inc. Joe Kinsella has been selected by the Wisconsin Technical College District Boards Association (WTCDBA) for the 2022 Technical Education Champion Award. The award signals statewide recognition for Kinsella's outstanding contributions to a local technical college district and/or the technical college system. Kinsella will be presented with his award during the WTCDBA summer meeting in Wausau on July 22. 
Kinsella is the first recipient of the award in the Mid-State Technical College District. 
"When we nominated Joe Kinsella for the 2022 Technical Education Champion Award, we hoped others would recognize the magnitude of all he has accomplished on behalf of the Mid-State and technical education," said Mid-State president, Dr. Shelly Mondeik. "We are so excited to see him receive this award. His unwavering support of the college and hands-on approach to solving some of the toughest challenges facing our communities make him a truly deserving candidate."
The Technical Education Champion Award recognizes key community and industry leaders who demonstrate an exemplary level of partnership to promote technical education and economic development. Each year the 16 technical colleges in the Wisconsin Technical College System are invited to nominate one person for the award, which is then evaluated based on the nominee's promotion of the local college, financial support to the district and individuals associated with the college, utilization of the college for employee training and by its students, advocacy on the college's behalf and enhancement of the community as a whole.
Kinsella's passion for the Wisconsin Technical College mission inspired his 15 years of district board service (2001–2016), including two as chair, and for many years he provided technical experts to serve on program advisory committees, including VPs of operations and manufacturing applications. Under Kinsella's direction, Pointe Precision also sponsors continuing education for its employees, including Mid-State tuition reimbursement up to $5,250 per year, apprenticeship including Mid-State coursework and Mid-State workforce development trainings. 
"I am very honored and humbled to receive the 2022 Technical Education Champion Award, and I'm proud to represent Mid-State, both in my current co-chair capacity as well as my past membership on the Mid-State board of directors," Kinsella said. 
Highlighted in his nomination for the award were Kinsella's recent contributions to Mid-State's proposed new Advanced Manufacturing, Engineering Technology, and Apprenticeship (AMETA) Center. His role as campaign co-chair combined with an early personal donation of $100K, matched by another $100K from Pointe Precision, ultimately helped attract 110 partners from 19 industry clusters to the cause, which has to date raised $12.8M toward the construction and instructional equipment. 
"Mid-State is aggressively working to provide future workforce skilling opportunities and help businesses grow, right here locally," Kinsella said. "As a business owner in our community, I thoroughly enjoy working with the Mid-State team to help keep our community vibrant and give people opportunities to grow as individuals and be able to support their families." 
Kinsella's work to champion the AMETA Center project was the culmination of many years of service and generosity to Mid-State and the community, including board and committee service for United Way of Portage County (1986–2010), Portage County Economic Development Corporation (1993–95), Stevens Point/Plover Area Chamber of Commerce (1993–95), Portage County Business Council (1995–99), Central Wisconsin Private Industry Council (1995–99), North Central Wisconsin Workforce Development Board (NCWWDB) (1998–present, chair since 2018), Wisconsin Center for Performance Excellence (2003–17) and WoodTrust Bank (2016–present). 
With a planned opening in late 2023 or early 2024, the AMETA Center is an approximately 50,000 square-foot facility slated for development on I-39 in the Stevens Point Industrial Park. It is expected to serve over 1,500 people per year through advanced programming to traditional technical college students and high school students, incumbent worker training, and new equipment and technology advancement demonstrations for central Wisconsin businesses. The facility is set to provide office space for the Wisconsin Bureau of Apprenticeship Standards (BAS) supporting the 14 apprenticeship programs available at Mid-State and the over 400 current local apprentices. 
To learn more about the AMETA Center or make a donation, please visit mstc.edu/partner.