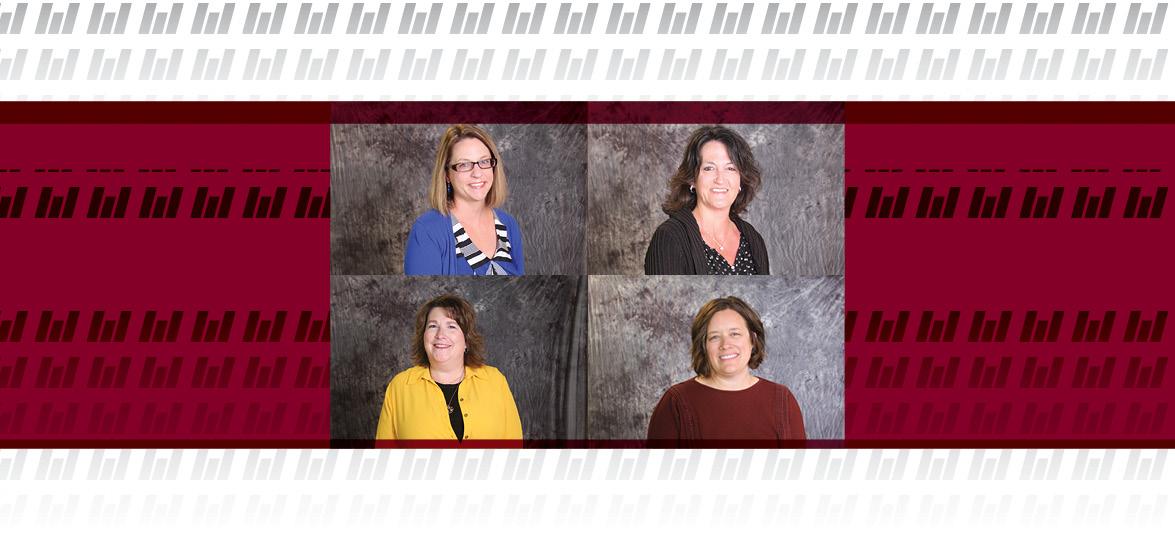 Four new members join Mid-State Technical College Foundation board of directors
June 27, 2022
The Mid-State Technical College Foundation, Inc., recently elected four new members to its board of directors. Starting their three-year terms of service on July 1, 2022, are Amanda Jones, Waupaca; Charissa Lager, Wisconsin Rapids; April Niemi, Scandinavia, and Jen Oswald, Wisconsin Rapids. 
Amanda Jones, director of operations accounting at Delta Dental of Wisconsin, holds a bachelor's degree in business administration, finance, from UW-Oshkosh. Her accounting career spans 21 years with positions in banking, manufacturing and insurance. In her current role, she is responsible for payroll, accounts payable, commissions, budget, investments and statutory reporting. As part of her role at Delta Dental, she serves on the Mission, Values and Fundamentals committee, where she contributes to the well-being of staff and the community and plays an active role in United Way, Special Olympics and Mission of Mercy. Jones is also active within her community of Waupaca. Her other board involvement includes service on the Mid-State Accounting Advisory Committee.
Charissa Lager is a senior account manager and digital marketing specialist at MediaWorks WI LLC, where she manages client projects and marketing budgets in addition to creating marketing assets and campaigns. She earned her marketing associate degree from Mid-State Technical College. Her past activities include starting a ShopWisRapids group to help local businesses grow and support each other as well as serving as an ambassador for the Heart of Wisconsin Chamber of Commerce. She also served as PTC president at Grove and Pitsch Elementary Schools. Her other board involvement has included Rapids Rec Soccer Board, PR/secretary/director; RASI board member; Wisconsin Judicare Board of Directors, executive board member  and North Central Community Action Program Board of Directors, executive board member.
April Niemi is deputy director of CAP Services, Early Childhood Development. She earned her BS in elementary education/early childhood and MS in human and community resources from UW-Stevens Point. In her current role she is responsible for the overall planning, administration and implementation of services for children, prenatal through age 5, which includes ensuring compliance with Head Start Performance Standards, Wisconsin Child Care licensing and program policies, among other supervisory, compliance and staff development duties. Her service activities include supporting local events and committee work including Born Learning and providing trainings for future or current teachers. She has also worked to support and plan many fundraisers and currently volunteers for the Wisconsin Chapter - Blue Star Mothers, where she oversees and
organizes fundraiser events.
Jen Oswald is the owner of Behind the Curtain, LLC, (Mission Coffee) In Wisconsin Rapids. She holds a BS in psychology from UW-Stevens Point and an MS in mental health from Southern New Hampshire University. She is a member of the Hannah Center Wisconsin Rapids Expansion Advisory Board since 2017 and served as a board member of TransAct Hope - Stevens Point from 2016–2021. She has extensive experience working in community outreach, both in the nonprofit sector and within the faith community.
"We're excited to add Amanda, Charissa, Jen and April to the board, utilizing their wide range of expertise to continue to broaden our mission of investing in student success and Mid-State Technical College's strategic plan through community connections," said Mary Jo Green, president of the Mid-State Foundation Board of Directors.
The Mid-State Foundation board of directors is a volunteer board of business and community leaders who believe in the College and its mission. The board sets the strategic course for the Mid-State Foundation and plays a key role in its implementation and execution, including investments in student success and support for the Mid-State Technical College Strategic Plan through the generosity of donors. 
Other members of the Mid-State Foundation board include Mary Jo Green (president), Nekoosa; Heather Huebner (vice president), Plover; Brian DeWitt (secretary), Wisconsin Rapids; Lisa Rowe-Peplinski (immediate past president), Wisconsin Rapids; Marg Coker-Nelson, Stevens Point; Kate Giblin, Stevens Point; Sue Miller, Port Edwards; and Larry Turba, Wisconsin Rapids.
Learn more about the Mid-State Foundation's mission, events and giving opportunities at mstc.edu/foundation-and-alumni.