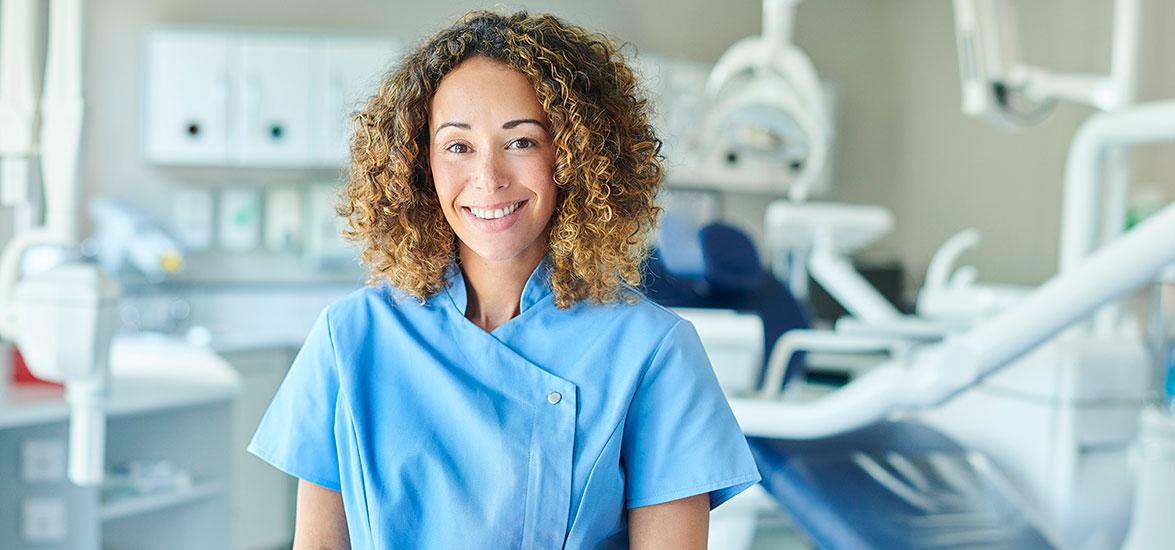 Family Health Center of Marshfield partners with Mid-State to launch Dental Assistant program
September 8, 2023
Wisconsin DHS grant-funded program aims to expand rural access to dental care
A Wisconsin Department of Health Services (DHS) grant awarded to Family Health Center of Marshfield has inspired a new partnership with Mid-State Technical College aimed at addressing the shortage of dental assistants and other oral care professionals in central Wisconsin. 
The partnership, supported by the Allied Health Professional Education and Training Grant, was the catalyst for the launch of a new Dental Assistant program from Mid-State. The grant provides tuition support for several cohorts of dental assistant students to participate in the one-semester technical diploma, with the first cohort of students slated to start the program in January 2024. 
"Over the years Family Health Center has been faced with a chronic shortage of dental assistants who are critical members of our dental teams," said Greg Nycz, chief executive officer for Family Health Center. "Without them, fewer people in our communities will get the dental care they need. We are excited about our partnership with Mid-State to help us address this issue, as it will lead to more access to dental care for those in need," he said. "The enthusiasm Mid-State's leadership has had for this partnership is inspiring and demonstrates the critical role our technical colleges play in addressing workforce challenges."
"At Mid-State Technical College, forging unique partnerships to solve our district's most pressing workforce challenges is an ongoing focus," said Mid-State's president, Dr. Shelly Mondeik. "We are thrilled to see this collaboration with Family Health Center of Marshfield come to fruition and look forward to delivering skilled Mid-State graduates to ease the growing demand for dental care services in central Wisconsin, especially in rural communities who might otherwise not have access to them."
According to the Bureau of Labor Statistics, the projected job growth for dental assistants nationally is 8 percent through 2031. That increase is tied to an overall increase in demand for preventive dental services, especially as baby boomers continue to enter older age groups and require more oral health care. According to Wisconsin Department of Workforce and Development data, central Wisconsin's growth rate in the profession is even higher, at 9.1 percent, with many upcoming vacancies due to retirements and transfers.
The new Dental Assistant technical diploma, at the heart of the partnership, is a one-semester program and will launch in early 2024 with initial capacity for eight students. Those entering the program will experience hands-on training in a space provided by the Family Health Center clinic site in Marshfield. The grant-funded tuition program will be available to any student in the first three cohorts who commits to working for one year, post completion, in a rural dental facility that accepts BadgerCare or Medicaid patients. 
"When Family Health Center of Marshfield approached Mid-State with a need for staff in oral health, we enthusiastically responded as a partner to support their Allied Health Professional Grant application," said Mid-State's vice president of academics, Chris Severson. "The Dental Assistant program we are launching is the perfect blend of classroom instruction and real-world clinical placement, ensuring our graduates will enter the workforce with confidence to go with their in-demand skills."
"What started out last year as a brainstorming session to address workforce challenges in oral health settings has now become a dream realized with a Dental Assistant program, which will be offered by Mid-State at the Family Health Center Dental Center in Marshfield, Wisconsin," said Tena Springer, director of dental operations for Family Health Center.
"With a great need for oral health services in underserved populations in our communities, we are dependent on having trained, skilled support staff to help our dental providers deliver quality, compassionate care," said Springer. "The shared passion for developing staff to help meet this need is evident in the commitment of both of our organizations. The benefits of this program stretch from the individual student career development, to future fully staffed dental teams and, ultimately, the improved dental access for individuals needing dental care."
The partners look forward to making their agreement official at a signing event at Family Health Center of Marshfield at 1307 N Saint Joseph Ave, Marshfield, on Sept. 26. Students who enroll will receive all of Mid-State's usual student support services, including enrollment assistance, career pathway development, guidance and counseling, academic advising, tutoring, learning resources and placement services. For more information visit mstc.edu/new-programs.