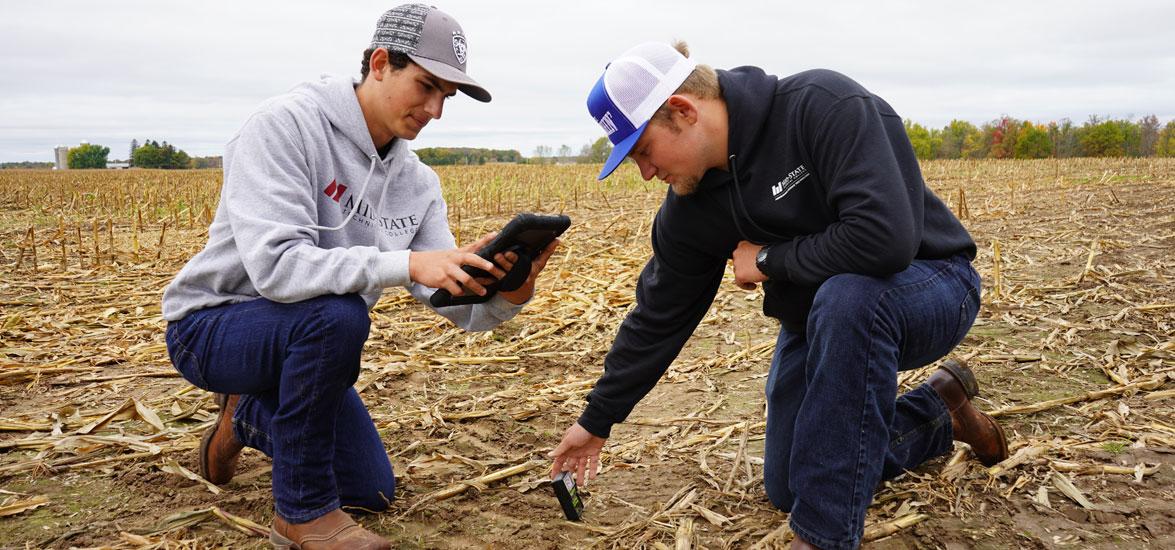 Agriculture programs expand to Mid-State's Wisconsin Rapids Campus
November 4, 2021
This spring, students looking to pursue a degree in agribusiness will have a new Mid-State Technical College campus option close to home. The Wisconsin Rapids campus will offer Mid-State's full associate in applied science (AAS) in Agribusiness and Science Technology starting in January 2022. The change also expands the related Farm Operation and Agribusiness Agronomy Technician technical diploma programs to the campus.
Students in Mid-State's Agribusiness and Science Technology program prepare to be owners or employees of a farm business in all sectors of the agriculture industry or work in businesses that support the agriculture industry. The program includes dairy and livestock management and traditional crop production. Students develop a nutrient management plan, calculate cost of production and develop a long-term facility and equipment plan as well as a farm business plan. Hands-on experiences include taking soil samples; identifying diseases, insects, and weeds that impact profitability; and working with livestock nutrition and management. Graduates may obtain a private pesticide applicators certificate.
The drive to offer the full AAS in Agribusiness and Science Technology at the Wisconsin Rapids Campus is a result of continued growth in Mid-State's agriculture programs. According to Alex Lendved, dean of Mid-State's Marshfield Campus, the College is committed to supporting the growing demand for a skilled workforce as well as meet student needs for flexible programming with daytime and evening options. 
"We are honored to continue to meet the demands of our communities," Lendved said. "Expanding full agriculture programming is a direct reflection of being responsive to industry demand."  
Agriculture programming starts fall, spring and mid-term. With the expansion to the Wisconsin Rapids Campus, Mid-State is now offering day and evening options. Learn more and apply for the spring semester now at mstc.edu/programs.