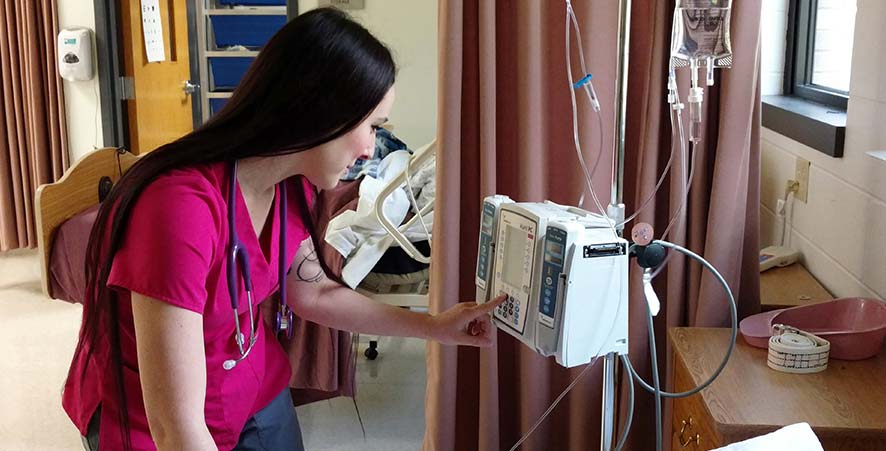 Graduate Spotlight - September Vilmin
September Vilmin
Nursing, May 2017
"Don't sell yourself short and think that a bump in the road means you can't keep going. Keep going even if you think there is a reason to stop."
September Vilmin loves to help people and make a difference in their lives and knew she wanted a career where she could do that every day. While growing up she lost family members to cancer and was curious to know why. She decided to enroll in Mid-State's Nursing program because it combined her desire to understand with her passion for making a difference.
The journey to September's degree would not be an easy one. During her first week, she learned that her mother was diagnosed with terminal cancer. Her mother declared that she would fight the cancer if September would fight her way through school, hoping to be around to see her daughter graduate. Sadly, at the end of finals week of September's first semester, her mother lost her fight, leaving September to continue on her own. "This was a very difficult time in my life, but I knew I had to keep pushing through to make my mother proud," she remembers.
September describes her nursing instructors as caring people who share what the students will be experiencing in the real world. "They understand the real-life work that goes into a nursing career and don't just teach out of a book," she says. "All of my teachers were either nurses or involved in patient care." She speaks just as highly of the six Nursing students out of the Marshfield campus in her graduating class, and all of them became good friends.
September is graduating with high honors, with no loans or college debt to pay off. She hopes that students enrolling in the Nursing program persist when the going gets rough. "This program is going to take a lot of time and effort, so be ready for that. Don't sell yourself short and think that a bump in the road means you can't keep going. Keep going even if you think there is a reason to stop."
While in the program, September worked as a certified nursing assistant (CNA) at Ministry Saint Joseph's Hospital in Marshfield, where she did her last semester of clinicals. Before graduating she accepted a position at Saint Joseph's working on the medical surgical floor for surgery patients and for palliative care. Her long-term plans are to continue working for Saint Joseph's in the palliative care unit and eventually get her bachelor's degree in nursing.