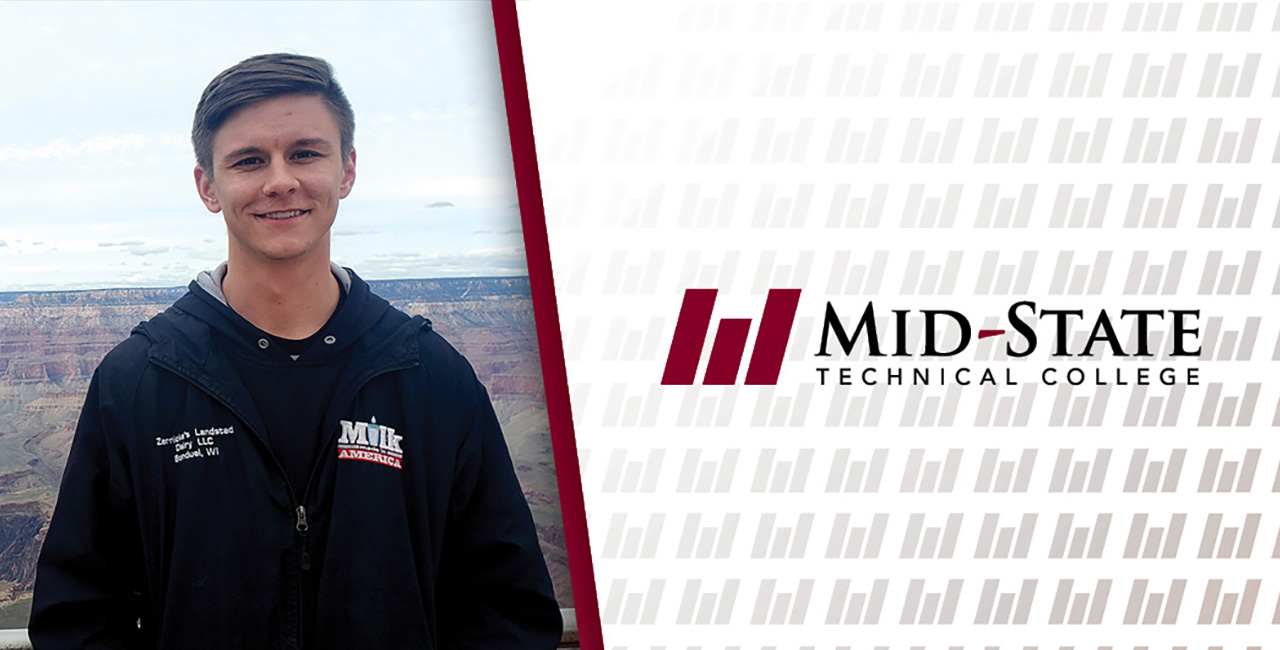 Graduate Spotlight - Luke Mroczenski
Luke Mroczenski
Civil Engineering Technology-Highway Technician, May 2020
"I'd already gone the four-year route, and it was good, but I knew that based on time and money, I wasn't looking to go back into a four-year university."
When it comes to bold career moves, Luke Mrozcenski, has mastered the crash course. Set to graduate this spring from Mid-State's Civil Engineering Technology-Highway Technician program, he first took a step back from his full-time salary and health insurance after one year of teaching high school math. "I wasn't sure if I was exactly where I was supposed to be in life," he says about his decision, even if teaching was a great fit in many ways for the self-improvement addict who says he is motivated by the desire to help others.
But what next, and where next? "I'd already gone the four-year route, and it was good," Luke says, "but I knew that based on time and money, I wasn't looking to go back into a four-year university." After extensive research, he found the answer in a civil engineering degree and a career in surveying. The work would draw on his math skills with the perfect blend of physical and intellectual challenge. He also looked forward to a hands-on profession that would get him outdoors more often.
Luke sought out a college with a solid reputation and a two-year program so he could get back into the workforce and earning as soon as possible, which pointed him to Mid-State and its Civil Engineering Technology-Highway Technician program. The College's civil engineering instructors set him up on a job shadow, and Luke went forward with the plan. He enrolled full-time and relocated from his hometown of Athens to Nekoosa, where he had some friends and connections. He'd left his teaching career behind—or so he thought.
From the start, Luke decided to apply for a part-time tutoring job in Mid-State's Academic Learning Center, just to round out his college experience and use his math skills for good. Little did he know that this one application would turn into academic coaching and even teaching a math course for Mid-State. "I was actually able to sit down with the dean of general education, which at a huge university I imagine I wouldn't have gotten that chance," he says.  
Even as Luke's love of teaching was reignited, he happily progressed through his associate degree program, developing and honing his surveying skills while forming some of the best memories of his time at Mid-State with other students in the Civil Technology Club and at professional conferences and fundraising events. He also appreciated having instructors with real-world experience in civil engineering, who frequently passed on that experience to their students. "They break down the curriculum really well and are really available," he says.
But Luke's Mid-State experience would not stop there. He applied for and served in student ambassador and campus representative positions, both of which allowed him to share his positive experiences with others throughout the year. These led to an even greater opportunity this spring when he was chosen to represent Mid-State in Madison as the College's WTCS state ambassador, a role reserved for some of the most outstanding students in the Wisconsin Technical College System. "It's really been an honor to be recognized as someone who embodies Mid-State's values," he says. "It's a great feeling to be supported and believed in."
As he prepares to take the next step in his career, Luke realizes he has more options now than he ever dreamed of when he first decided to return to college for another degree, in part because of the opportunities he's found at Mid-State. This past summer, he completed a surveying internship for a company in Wausau and has the option to work for them after graduation, but it's not the only option that now has his attention. For Luke, deciding to teach was always about assisting and lifting people up. "If I can see a way to help people, I like to think that I'm going to pursue it," he says, reflecting on the possibility that he will keep teaching in some capacity as he moves forward.
Whatever he decides, Luke is loving the fact that he can start earning immediately in a hands-on profession that aligns with his new skills, or he can further invest in teaching at the college level and see where that leads. He is also grateful for the scholarships he was awarded from the Mid-State Foundation, enabling him to graduate debt free. "The generosity of Mid-State's donors really helped to alleviate a lot of the monetary concerns I had about getting that second degree," he says.
Luke's experience earning a second degree may have taken some unexpected turns, but the outcome has been perfect for him. He has a few words for others considering a two-year degree at Mid-State, "It's not a short path with a closed door. If you do decide to pursue more school, that first two years at Mid-State are only going to leverage you to more success."