CPR and First Aid Training Courses
Mid-State is a proud training center for the American Heart Association (AHA). We offer a variety of CPR and first aid training courses for the general public and health care providers.
Find the course that best fits your needs below, and select Register Now to search for your class and register.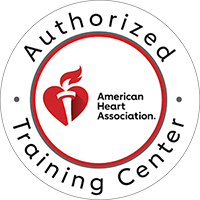 In-Person Classes
HeartSaver® CPR/AED
Heartsaver CPR AED is geared for anyone with limited or no medical training who needs a course completion card in CPR and AED use to meet job, regulatory, or other requirements. Upon successful completion of the course, students receive a course completion card, valid for two years.
Class time: 4 hours
HeartSaver® First Aid/CPR
The AHA's Heartsaver First Aid CPR AED course trains participants to provide first aid and CPR as well as use an automated external defibrillator (AED) in a safe, timely, and effective manner. Upon successful completion of the course, students receive a course completion card, valid for two years.
Class time: 6 hours
Heartsaver® Bloodborne Pathogens
This course is designed to meet OSHA requirements for bloodborne pathogens training when paired with site-specific instruction. Upon completion of the online course, students receive a course completion certificate that can be presented to employers.
Approximate Class Time: 1 hour
Basic Life Support (BLS) for Healthcare Professionals
BLS is geared towards prehospital providers, like EMTs, paramedics, firefighters, and in-facility hospital providers. Upon successful completion of the course, students receive a course completion card, valid for two years.
Approximate Class Time: 5 hours
Basic Life Support Renewal
For those who already have a BLS credential and need to renew their certification. Upon successful completion of the course, students receive a course completion card, valid for two years.
Approximate Class Time: 3 hours
Advanced Cardiovascular Life Support (ACLS)
For healthcare professionals who either direct or participate in the management of cardiopulmonary arrest or other cardiovascular emergencies and for personnel in emergency response.
Approximate Class Time: 16 hours
Advanced Cardiovascular Life Support for Experienced Providers (ACLSE)
For those who are proficient in performing BLS and ACLS skills, reading and interpreting ECGs, and understanding ACLS pharmacology as well as regularly lead or participate in emergency assessment and treatment of prearrest, arrest, or post-arrest patients.
Approximate Class Time: 8 hours
Pediatric Advanced Life Support (PALS)
The PALS Provider Course aims to improve outcomes for pediatric patients by preparing healthcare providers to effectively recognize and intervene with patients experiencing respiratory emergencies, shock, and cardiopulmonary arrest by using high‐performance team dynamics and high‐quality individual skills.
Approximate Class Time: 9 hours
Hybrid Classes
Basic Life Support Skills Test / HeartCode®
After completing the online portion, students will attend a structured, Instructor-led hands-on session that focuses on meaningful skills practice, team scenarios, and skills testing.
Approx Class Time: 2 hours online and 1-2 hours in person
Other Options
Request Customized Group Training
Questions