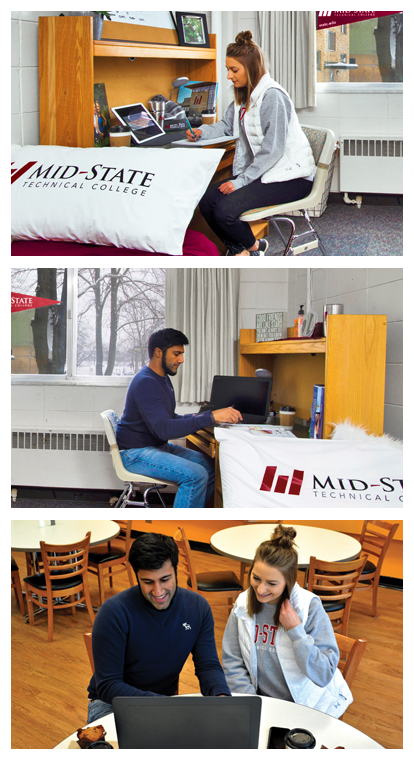 Mid-State Technical College has partnered with the University of Wisconsin-Stevens Point to provide a total college experience including on-campus living in one of UW-Stevens Point's co-ed residential halls.
Live in the same residence hall (a.k.a. "dorm") with other Mid-State students, or request to room with a friend who may be attending UW-Stevens Point.
Make lifelong friends and connections in a supportive environment.
Includes meal plan, cable TV, internet, and residential activities and events.
Transportation between UW-Stevens Point's dorms and Mid-State's Stevens Point Campus available.
Cost is the same as for UW-Stevens Point students—between $3,500 and $4,000 per semester.
Request a housing application
Housing Applications for 2023-2024 are now open. Housing is currently full for fall 2023. All applications submitted after 6/27/23 will be added to the waitlist and contacted with status updates.
Learn more
Visit the Residential Living page on UW-Stevens Point's website for more information.
Questions
If you have any questions, please contact Riley Denny at (715.342.3110).
Mid-State Technical College does not discriminate on the basis of race, color, national origin, religion, gender, disability, age, sexual orientation, or other applicable legislated categories, in its services, employment programs, and/or its educational programs and activities, including but not limited to admissions, treatment and access. Inquiries regarding this non-discrimination policy, Title VI, Title IX, and Section 504 should be directed to the Equal Opportunity Officer, 500 - 32nd Street North, Wisconsin Rapids, WI 54494, 715.422.5325 • AAEO@mstc.edu. Limited English proficiency shall not be a barrier to admission or participation in any college program or service. Mid-State complies with the American with Disabilities Act and provides reasonable accommodations to assist persons with disabilities upon request.