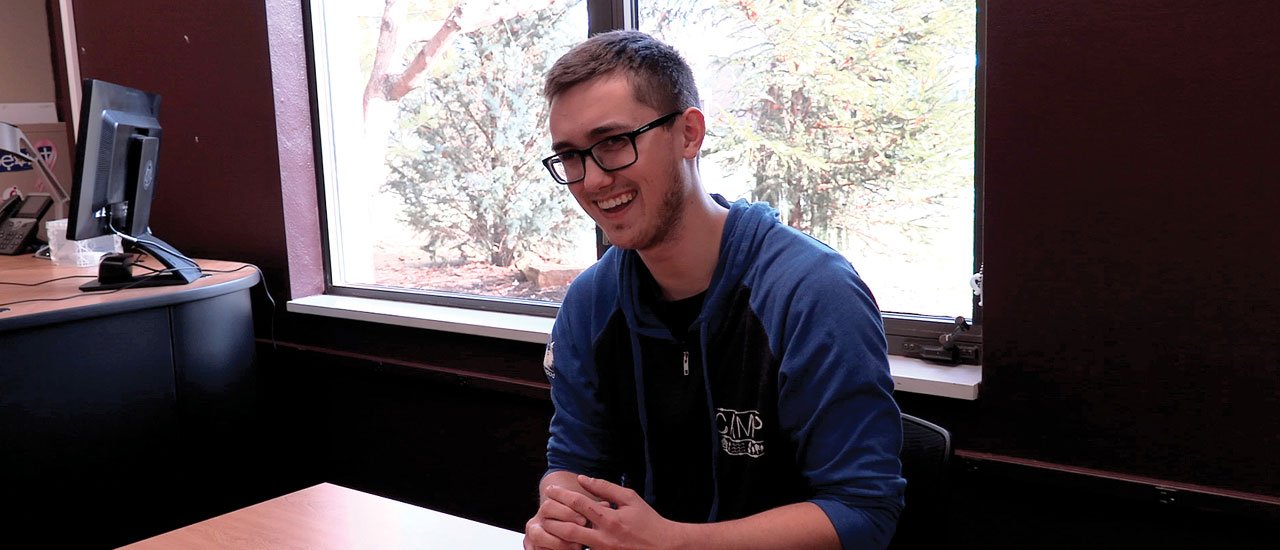 Graduate Spotlight - Colin Yusten
Colin Yusten
Machine Tool Technician, December 2019
"At Mid-State… you're really accepted for who you are. You can be old, young, fresh out of high school, or have 30 years of experience in some work field…. They're going to take you in and still teach you the same way, and they're going to give you that knowledge that you desire to learn."
Colin Yusten is not one to waste time when life presents him with an opportunity. After choosing to pursue a two-year degree from Mid-State Technical College straight out of high school, he now approaches graduation from the Machine Tool Technician program this December as a recently married young man with a full a year of work experience in his chosen field.
Colin's high school days were in many ways typical. Outside of school he worked at the grocery store in town and devoted weeks of his summer breaks to the roles he held at a youth camp. His loves included music and drumming as well as working on cars. After some exposure to technical subjects in his classes, he learned to love mechanics and machining too.
When it came time to think about college, Colin's dad, a salesman in the machine tool field, was a strong influence. "He talked me into going to Mid-State… and I really enjoy it," says Colin. "At Mid-State… you're really accepted for who you are. You can be old, young, fresh out of high school, or have 30 years of experience in some work field…. They're going to take you in and still teach you the same way, and they're going to give you that knowledge that you desire to learn."
Colin initially enrolled in Electrical Power Engineering Technician program but then changed direction. "It just wasn't a good fit for me," he says about his decision to switch to the Machine Tool Technician program. But settling on machine tool was not entirely random. Colin's father had told him about the machining field, which led him to research it on the side and finally switch to the program just to see what it was like. "After the first semester, I knew this was what I wanted to do for the rest of my life," he says.
When asked about his proudest Mid-State memories, Colin is quick to point to the big life changes that have come along the way—getting married this April and landing a job in his field at Innovative Machine Specialists in Marshfield a full year before graduation. The shop provides custom machining for industry, including making parts used in the dairy industry and motorcycle manufacturing, giving Colin valuable on-the-job experience to complement the skills he's learning in his program.
Colin's fast life progress has stemmed from sound, decisive action combined with hard work. "I found the most challenging thing to be disciplining myself," he says, "pushing myself every day, showing up on time, doing the homework, prioritizing life around school."
In the end, Colin experienced much more than anticipated at Mid-State, given his busy work schedule outside of school and limited time to make friends. The laid-back atmosphere, including end-of-semester cookouts with other students in the Machine Tool Technician program, helped him build relationships and get to know a lot of people.
One of the people he'll remember most is machine tool instructor Mike Berry. "He taught me so much over the years," he says. "Just that knowledge, that relationship that he has with his students…is just awesome really…. He's the instructor I'll remember for the rest of my life."
It comes as no surprise to learn that Colin's next chapter is already looking ahead to the one after that. "I've been playing with the idea of actually getting maybe 10–15 years of experience under my belt in the industry and then potentially becoming an instructor somewhere and passing that knowledge to the next generation," he says. "Otherwise I would continue to work in the industry and maybe become partners with somebody and open up my own shop."