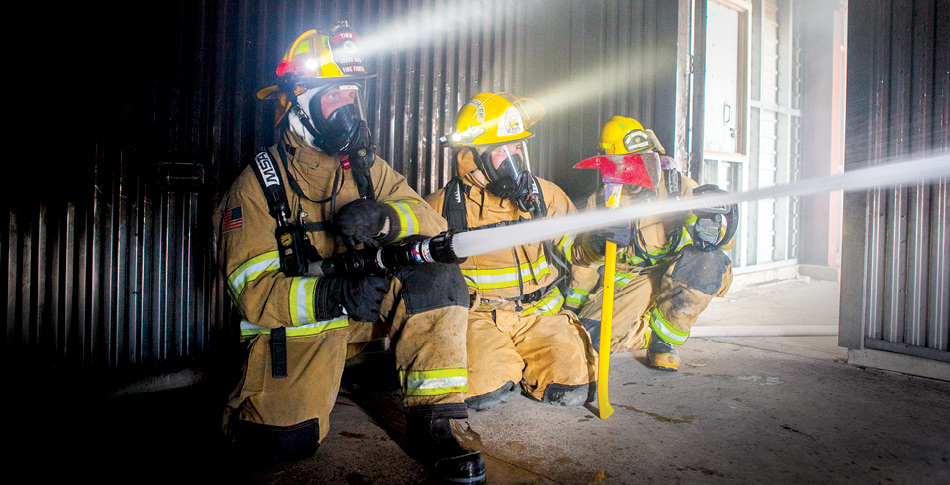 Firefighter Technician Academy
Mid-State's Firefighter Technician Academy is an innovative "school-to-work" program that allows students at Marshfield and Columbus high schools to prepare for fire protection and EMS careers while saving money on future college tuition, including Mid-State's Fire Protection Technician associate degree program.
Developed in partnership with the Marshfield Fire Department, Marshfield High School, and Columbus High School, this program combines Mid-State fire and EMS classes for college credit with hands-on shadowing and volunteer service with the Marshfield Fire Department, giving these students a competitive edge as they prepare for a career in fire protection.
Students completing the program will potentially earn credentials and EMT certification, qualifying them immediately for volunteer and possibly paid fire service positions. Classes are scheduled outside normal high school hours, and course sequencing allows students to complete program requirements during their junior and senior years of high school.
The program also includes options for any area high school student to take fire and EMS courses for career exploration or volunteer service.
Local demand for highly skilled firefighters is rising now—get ready to save lives.
Why Start in High School?
Save money on college tuition.
With many classes already completed during high school, graduate from college faster and start your career earlier.
Gain hands-on experience now and start making connections in your local fire department.
Choose Your Path
Option 1 – Firefighter Technician Academy
The Firefighter Technician Academy provides training to current high schools students in the Marshfield area who want to protect lives and property in their community and are considering a career as  a firefighter.
Option 2 – Be Elite
The Elite Firefighter Technician Academy is recommended for Marshfield-area high school students who are certain of fire protection as a career choice. Designed for high school students who are interested in playing an integral role in the safety of our community, this option includes the Mid-State college courses of the Firefighter Technician Academy plus community volunteerism to provide the very best preparation for this in-demand career of service.
To be eligible for the Elite Firefighter Technician Academy:
Be a high school senior who has successfully completed Year 1 of the Firefighter Technician Academy.
Interview and be accepted to the Marshfield Fire Department Internship Program.
Complete volunteer hours and competency-based training with the Marshfield Fire Department.
Enroll in and attend the Mid-State Technical College courses suggested for Year 2 of the Firefighter Technician Academy or any fire/EMT classes at Mid-State.
Option 3 – Be Ready to Serve
Interested in serving as a volunteer firefighter? To qualify for service as a volunteer with a local fire department, successfully complete two courses of the Firefighter Technician Academy—Firefighting Principles and Advanced Firefighting—at Mid-State Technical College.
Learn More and Get Started
You can register for Firefighter Technician Academy classes at any time.
Interested high school students should talk to their guidance counselor to learn about possible funding and steps to getting started.
Not a high school student? The Firefighter Technician Academy is tailored to the needs of high school students but is open to anyone interested. Contact Morgan Anderson (715.389.7052) to learn more.