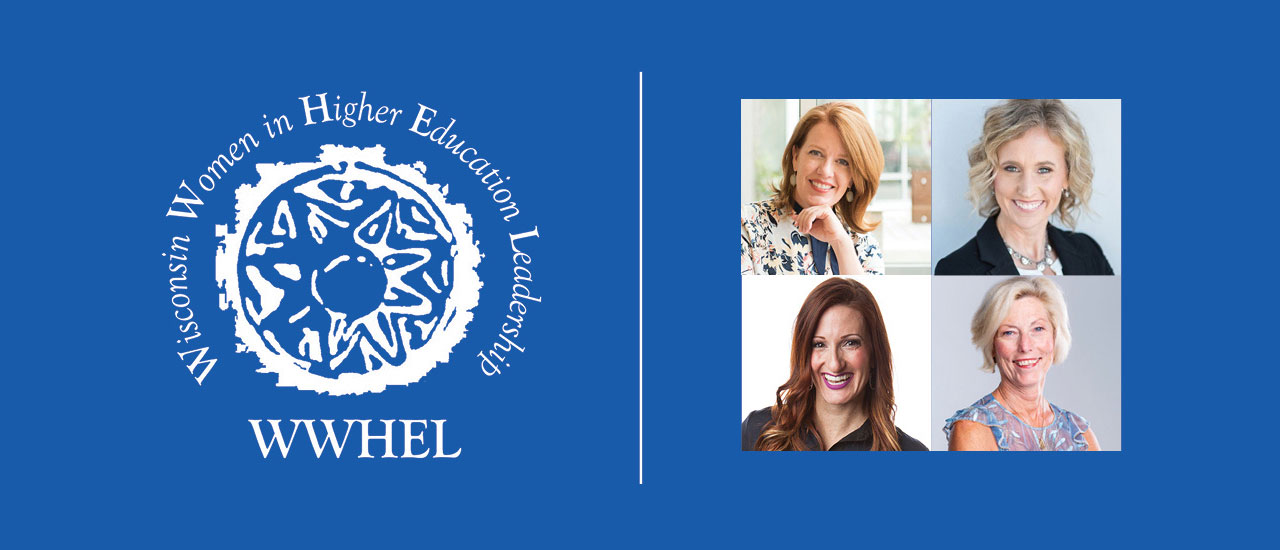 Wisconsin Women in Higher Ed Leadership (WWHEL) State Conference 2019
Main Conference
Wednesday, October 9, 11:00 a.m. - 4:45 p.m.
Thursday, October 10, 8:30 a.m. - 3:00 p.m. .
Are you in leadership—or a leader in the making? Join us at this exciting conference focused on Centered Leadership, sponsored by the Wisconsin Women in Higher Education Leadership.  
At this two-day event, you'll connect with other leaders from around the state of Wisconsin to explore how the Centered Leadership model can help you thrive in business and in life. Includes dynamic keynote presentations and breakout sessions on meaning, managing energy, positive framing, connecting, and engaging.
This conference and an optional add-on Leadership Intensive are open to any interested individual. 
Keynote speakers and breakout sessions will offer a focused examination of the ideas of:
Meaning - Happiness, Signature Strengths, Purpose
Managing energy - Are You Surviving, Striving or Thriving?
Positive framing - Don't Believe Everything You Think!
Connecting - How To Connect With Anyone
Engaging - Finding Your Voice and Collaborating With Others 
Conference fee: $150 (or $80 for one day)
Additional Opportunity: Leadership Intensive - Centered Self for Centered Leadership
Friday, October 11, 8:00 a.m. – Noon
The purpose of this Leadership Intensive is to create a safe place for self-exploration and create a support community for those of us who love this type of work. Our Leadership Intensives exist to ignite a deeper connection with ourselves and honor the greatness in each other. We do this by taking participants through a series of experiences focused on shifting mindsets, processing through insights and discoveries, coaching in the moment, and providing meaningful feedback. Participants will discern what centered looks like, what is required to get there, and how to get back to centered when we drift off track.
Optional Leadership Intensive fee: $99
Get more information and register.
Find information about the speakers and conference schedule on the WWHEL website.