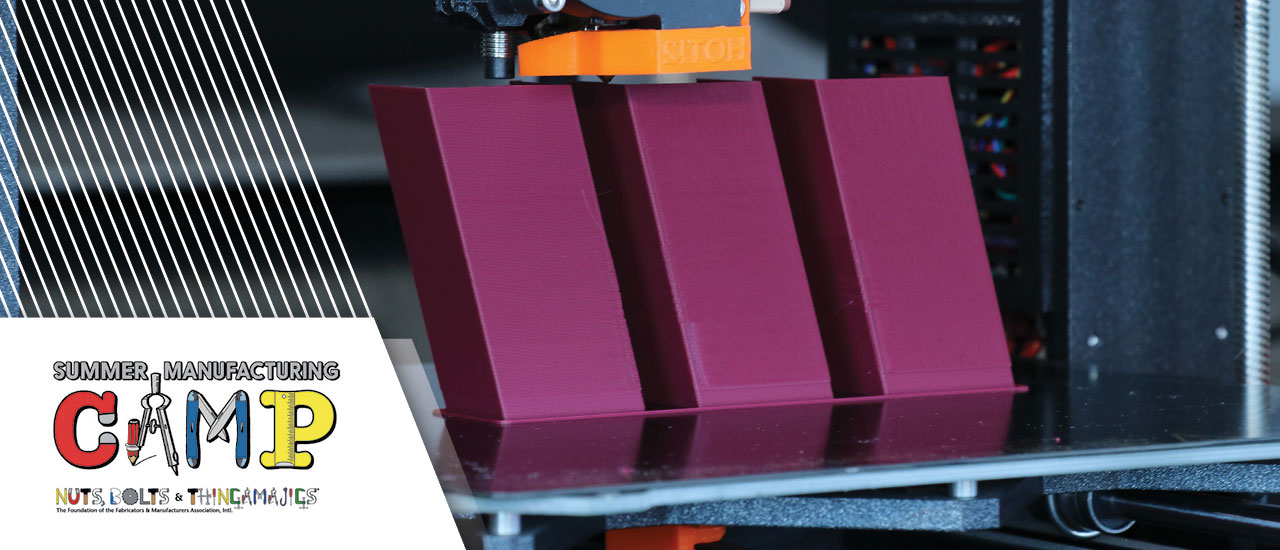 Summer Engineering and Manufacturing Camps
Mid-State's Summer Engineering and Manufacturing camps introduce middle and high school students to exciting career choices in today's engineering and manufacturing industries and introduce entrepreneurial concepts and skills.
Made possible through a generous contribution from Nuts, Bolts & Thingamajigs® (NBT), the charitable foundation of the Fabricators & Manufacturers Association, International® (FMA), which supports individuals in discovering their interest in manufacturing, engineering, and STEM, and to encourage the pursuit of a manufacturing career.
Weekly Camp Schedules
Depending on the camp, at least the first hour of each session will be live online. A portion of each class session may be offered as open lab time where the student will have work time with an open connection to the instructor. Optional online office hours are available for students to have further discussion on camp topics and to ask questions or get assistance. Outside of scheduled online time or optional online office hours, instructors will be available by email or voicemail.
Manufacturing Fidget Toys – 3D Printing and Design (August 3 – 8)

In this camp you will have the opportunity to try your hand at computer-aided drafting and slicing as you prepare to have your very own designs produced on a 3D printer. You will explore different types of 3D printing technologies and applications of additive manufacturing, as well as learn about local businesses that use 3D printing.

While this camp will be held remotely, we have a lot of exciting, hands-on activities planned that can be completed at home. Students will have the opportunity to watch their projects print via live-stream as well as through an in-person viewing opportunity on the Mid-State Wisconsin Rapids Campus.

A computer with an internet connection is needed to attend this camp.

Camp fee: $89

Register

Apply for Scholarships

Schedule

Monday, August 3
Online time: 1:00 – 4:00 p.m.
Optional online office hours: 5:00  – 6:00 p.m.

Tuesday, August 4
Live Online: 5:30 – 8:00 p.m. 

Wednesday, August 5 
Optional online office hours: 9:00 – 10:00 a.m.
Optional online office hours: 5:00 – 6:00 p.m.

Thursday, August 6 
Live Online: 5:30 – 8:00 p.m.

Friday, August 7
Optional online office hours: 9:00 – 10:00 a.m. 

Saturday, August 8
Live Online: 9:00 a.m. – Noon

What "Stuff" Is Made Of – Topics in Materials Science (August 10 – 15)

Look around you! Materials make up everything you see. The field of materials science and engineering offers career opportunities in just about every industry and affects almost any "thing" you can imagine. The science of this field seeks to understand the properties of different materials, including their composition and structure and how they can be changed and manipulated. Once a material is better understood, it can be used to create and fabricate items that meet the needs of industry and society.

Materials science connects to many other disciplines including biology, chemistry, economics, engineering, and physics.

While this camp will be held remotely, we are planning on an array of safe, hands-on, fun activities to help learn about different classes of materials. Our discussions will mostly focus on solid materials like metals, ceramics, composites, and polymers, and some basic chemistry. Prior to the class, arrangements will be made for students to obtain kits of materials to be used during the class.

A computer with an internet connection is needed to attend this camp.

Camp fee: $89

Register

Apply for Scholarships

Schedule

Monday, August 10
Live online: 1:00 p.m. – 4:00 p.m.
Optional online office hours: 5:00 – 6:00 p.m.

Tuesday, August 11
Live online: 5:30  – 8:00 p.m.

Wednesday, August 12 
Optional online office hours: 9:00 – 10:00 a.m.
Optional online office hours 5:00 – 6:00 p.m.

Thursday, August 13 
Live online: 5:30 – 8:00 p.m.

Friday, August 14
Optional online office hours:  9:00 – 10:00 a.m. 

Saturday, August 15
Live online: 9:00 a.m. – Noon 
 

Satellites, Water Pollution, and Lasers: An Exploration of Civil, Environmental, and Geotechnical Engineering (August 17 – 22)

The Hoover Dam. The Eiffel Tower. The Golden Gate Bridge. The Moffat Tunnel. These are just a few of the well-known landmarks that should make you think of civil engineering. Civil engineers design, build, and maintain critical infrastructure for our modern society—roads and bridges, drinking water and energy systems, airports, and the infrastructure for a cleaner environment, to name just a few. Think of a civil engineer whenever you turn on your water to take a shower or fill a glass with clean drinking water, turn on your lights when it gets dark at night, ride in a car to the store on roads and over bridges through coordinated traffic lights, fly on an airplane or ride on a train for a vacation, or toss paper into the recycling bin.

Civil engineering offers a variety of specialty areas, and engineers who work in these fields use high-tech tools and precision instruments to guide their work. In this remotely delivered camp, you will have the opportunity to explore some of these specialty fields and participate in safe, hands-on, fun activities to learn about this exciting and diverse field that keeps society running. 

Prior to the camp, arrangements will be made for students to obtain supply kits to be used during the class. For the discussion on GPS and satellites, it is recommended that students (or their parents) have access to a smartphone on which the Geocaching app can be downloaded; alternatively, if a handheld GPS receiver is available to the student, that device may be used, as well. 

A computer with an internet connection is needed to attend this camp.

Camp fee: $89

Register

Apply for Scholarships

Schedule

Monday, August 17
Live Online: 1:00 p.m. – 4:00 p.m.
Optional online office hours: 5:00 – 6:00 p.m.

Tuesday, August 18
Live Online: 5:30  – 8:00 p.m.

Wednesday, August 19
Optional online office hours: 9:00 – 10:00 a.m.
Optional online office hours 5:00 – 6:00 p.m.

Thursday, August 20
Live Online: 5:30 – 8:00 p.m.

Friday, August 21
Optional online office hours:  9:00 – 10:00 a.m.

Saturday, August 22
Online time: 9:00 a.m. – Noon