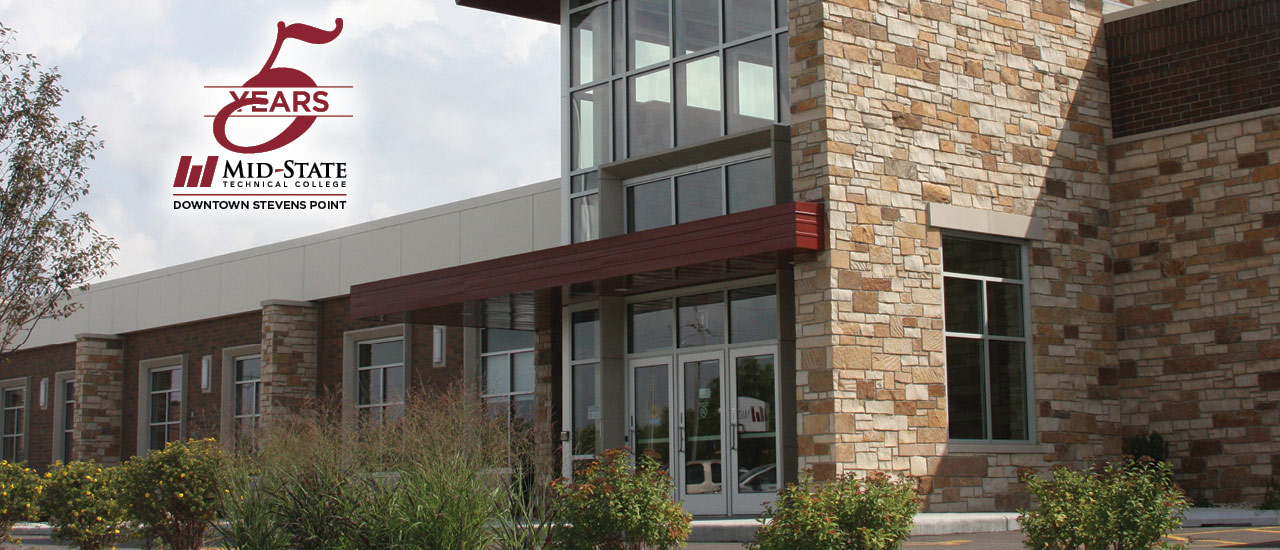 Stevens Point Campus Five-Year Anniversary Celebration
Join us in celebrating the five-year anniversary of our Stevens Point Campus relocation to beautiful downtown Stevens Point!
Back in 2014, we jumped at the opportunity to move just 1.2 miles to expand and evolve to better meet the needs of the Stevens Point community. Today, the success we've experienced in downtown Stevens Point has exceeded our hopes and expectations, and it's all thanks to your support!

Thank you for letting us serve you.

Thank you for your partnership and friendship.

Thank you for being part of the Stevens Point Mid-State story!
Follow the Celebration and Enter to Win!
We'll be celebrating and sharing and thanking you all year—with events, stories, and giveaways.
Join the party on social media
Like and follow us on Facebook and Twitter,  and follow the hashtag #SP5Year.
Enter to win the $500 Grand Prize Gift Basket
In June 2020 we'll be drawing one Grand Prize Gift Basket winner in our "Stevens Point Campus Five-Year Anniversary Celebration Giveaway." This basket of Mid-State merchandise plus items and discounts from local businesses is valued at $500! To enter, complete the form below. (Your entry also qualifies you for additional "Stevens Point Campus Five-Year Anniversary Celebration Giveaway" drawings throughout the year.)
Learn more now about the Stevens Point Campus story and the opportunities available in the Did You Know section.
Did You Know?
Learn more about the Stevens Point Campus, the move just five years ago, and who we are—with your help—today.
Programs 

Mid-State offers over 60 degree programs. Start any program in any location with general education courses. Below are the ones fully offered at Stevens Point Campus.
 
Accounting
Accounting Assistant
Administrative Professional
Business Management
Court Reporting
Customer Relationship Professional
Digital Marketing
Digital Marketing Promotions
Early Childhood Education
Emergency Medical Technician
Entrepreneurship
Human Resources
Health & Wellness Promotion
Health Information Management
IT Network Specialist
IT Security Specialist
IT Software Developer
Liberal Arts - Associate of Arts
Liberal Arts - Associate of Science
Medical Assistant
Medical Coder
Medical Office Specialist
Microsoft System Administrator
Nursing
Nursing Assistant
Pharmacy Services Management
Pharmacy Technician
Project Management
Sales Specialist

Student Life 

Timeline of the Move 

1992 – After occupying a leased building since 1961 on Michigan Avenue, Mid-State's Stevens Point Campus adds a wing to accommodate enrollment expansion.

2003 – We further expand at the Michigan Avenue, occupying a total of 36,000 square feet.

2008 – Out of space again! We need to expand by another 50 percent, and the only space left would mean reducing the size of our shared parking lot with Goerke Park. Already experiencing inadequate parking space, we need another solution.

2010 – The idea for relocating Mid-State's Stevens Point Campus to downtown is born! After we present then-mayor Andrew Halverson with a request to expand yet again in the Michigan Avenue location, Halverson suggests relocating to a portion of the CenterPoint Marketplace, expanding our space to 54,000 square feet.

December 2010 – Stevens Point Mayor Halverson and then-president of Mid-State Technical College John Clark announce the intention to move Mid-State's Stevens Point Campus to the new downtown location.

September 2012 – After a successful referendum and legal clearances, the new property's title is transferred to Mid-State.

April 2013 – Construction at the new site begins. Somerville Architects designs the new building, Ellis Stone (Stevens Point) is the general contractor.  

May 2014 – Construction is completed.

May 16, 2014 – The movers arrive (after Thursday night's graduation ceremony), and by noon on Saturday we're moved in!

June 2, 2014 – Thanks to Mid-State's Stevens Point Campus staff and help from many others put, the campus is put back together just in time for the beginning of the summer semester.

June 4, 2014 – Mid-State hosts an open house at the new campus, welcoming 1,200 guests! (We'd expected between 300 and 500).

September, 2019 – We launch our year-long Stevens Point Campus Five-Year Anniversary Celebration. Thanks to support from the community, we are thrilled to be a new cornerstone of downtown Stevens Point and an example of how to redevelop a small town's downtown to have a positive impact for years to come.


The Best Part—Connecting with You

There is so much to love about our downtown campus, but most exciting are all the ways our new location and building have inspired bigger and better connections within the Stevens Point community and even across the state. 

This campus was designed to work better for students—and make them want to stay on campus. Our new design focused on teaching and learning, including labs and classrooms tailored for how they would be used. And we strived to create a comfortable, attractive environment for our students, with modern lounges and other amenities to make them feel right at home.
Mid-State Technical College and the City of Stevens Point enjoy a strong, positive relationship, and we take our role as good neighbor seriously. After our move downtown, we increased our community involvement and support by becoming a member of the Stevens Point Downtown Alliance, which meets once a month to get and share updates on upcoming events to be held downtown (Wine Walk, Rediscover Downtown, concerts, and more), participate in the planning, and help too.
The Community Engagement Room has lived up to its name and intention. Our central location in the state makes our modern flexible large meeting space equally attractive to local and state organizations for their events. We host groups 3–4 times per week, often 3–4 per day, bringing many people back to downtown Stevens Point. 
Since the move, the campus is now a polling place for Stevens Point residents in voting district 4. 
We provide space throughout our campus for local communities to come in and make students aware of their services (CAP services, library, military organizations, and more).
We are proud to be the chosen site for the annual Veterans Day ceremony hosted by Polish Legion of American Veterans John Paul II Post 185, featuring 21 rifle shots, Taps, and a moving address from participating veterans. 

By the Numbers 

So much can happen in five short years. Here's who we are today and the good you've helped us achieve in our new location:

36 dedicated staff, including 17 full-time faculty with experience in their fields.
On average, 700 people per week attended classes.
33,000 students duplicated served, 8,000 unduplicated (each student taking roughly four classes on average).
188 different courses offered, including continuing education, adult basic education, and UGRAD.
111 Dual Credit high school classes for students in the Stevens Point area, enrolling over 1,600 students, saving students over $500,000 in tuition costs in just the last three years.