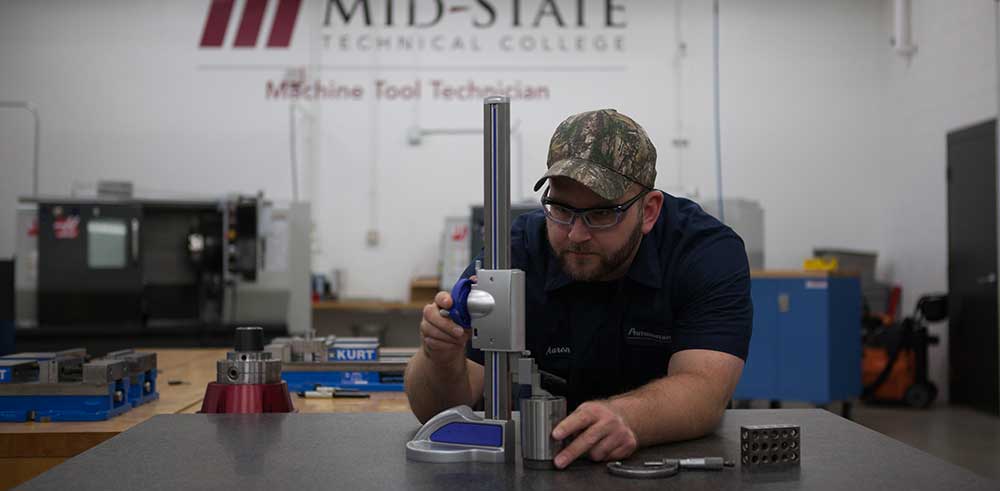 Where Cutting-Edge Technology Meets Creativity
Manufacturing has changed. Today it offers a high-tech work environment where hands-on skills meet innovation and high pay. Now is the right time to picture yourself in advanced manufacturing.
Make a global impact
Manufacturing is huge in Wisconsin—thousands of companies based in our state ship their products worldwide. A career in manufacturing gives you the opportunity to stay local while making a global impact every day.
Be in demand
The demand for workers with advanced manufacturing skills is only growing. Wisconsin ranks second in the nation for number of manufacturing jobs created in the last year. (Source: Bureau of Labor Statistics data.)
Earn great money
Starting salaries reported by graduates of our two-year manufacturing programs ranged from $27,040 to $45,760 per year.
The Mid-State Manufacturing Experience
Hands-on projects provide the right mix of classroom and individual instruction. State-of-the-art labs and tools allow students to learn on the same equipment used in the industry.
Opportunities to attend industry tradeshows, tours, and SkillsUSA competitions to make connections in your field, solidify your career choice, and hone your skills. Recent Machine Tool Technician graduate Dan Zdroik earned a silver medal at the national SkillsUSA competition in July.
Great teaching and mentorship. Mid-State instructors are experts in their fields with years of experience. Mid-State instructor Mike Berry was honored this year to receive the SkillsUSA Wisconsin State Advisor of the Year Award.
Ready to Get Started?
We're here to help.
The Programs
Industrial Mechanical Technician

Industrial mechanical technicians use problem-solving skills to troubleshoot and repair sophisticated equipment used in manufacturing. If you're interested in combining knowledge of electronics with computer programming, a career as an Industrial Mechanical Technician may be for you.

"The Industrial Mechanical Technician program was a great experience that created many opportunities for me."

FORREST GROSS
INDUSTRIAL MECHANICAL TECHNICIAN GRADUATE

Machine Tool Technician

Machinists blend craftsmanship and technology to create parts for use in manufacturing and each one must be nearly perfect. Check this one out if you have great attention to detail and mechanical aptitude.

"I value my experience at Mid-State tremendously. Even with a disability my education gave me the opportunity to join the workforce before I even graduated. Education equals opportunity."

JAKE ANDERSON
MACHINE TOOL TECHNICIAN GRADUATE

Stainless Steel Welding

A TIG welder can build a career in stainless steel fabrication or pursue additional training in welding to learn how to work with other materials. A skilled stainless steel TIG welder has mechanical aptitude and problem-solving ability.

Welding

If you like designing and working with metal, welding offers a variety of career opportunities relating to materials engineering, robotics, lasers, computer programming, and systems integration. Welding is an increasingly high-tech skill that is growing in relevance and demand.

 

"The Welding program at Mid-State taught me the important skills, techniques, and values that make it possible for me to succeed in the welding and fabrication field."

LOGAN MCKENZIE
WELDING GRADUATE

 

Other Programs in High Demand in Manufacturing