Milk Quality and Products
Name of Contest:
Milk Quality and Products
Contest Chairs:
Terri Raatz
Rachel Siegler
Contest purpose/objectives:
Participants in the Milk Quality and Products Career Development Event (CDE) demonstrate their knowledge about the quality production, processing, distribution, promotion and marketing of milk and dairy foods.
To provide high school agriculture students with dairy interests a practical experience that will serve them well in industry positions related to milk and dairy products.
To develop students' skills in identifying dairy products.
To provide experience in the evaluation of milk quality.
Qualification Statement:
This is a qualifying contest for the State contest. The top 7 teams will be eligible to enter the State FFA Career Development event. Practice teams will not be accepted. One team per school.
Scoring
Placement of teams will be determined by tabulating the three best scores of contestants from the school.
If a tie occurs within the top 5 teams or individuals, the following events will be used to determine award recipients:
Individual
Highest written exam score
Highest ID score
Overall Team
Total (top 3 team members) combined written exam scores
Total (top 3 team members) combined ID score
Materials Needed:
A clipboard and paper free from notes or other markings
Several sharpened no. 2 pencils (no pens)
Event Format:
The contest will consist of the following parts:
A.  Knowledge of Dairy Processing, Marketing, and Quality of Dairy Products
A written exam will be given to assess the students' knowledge of dairy processing, marketing, and quality of dairy products.
B.  Milk Flavor Identification and Evaluation
Ten samples of milk will be given to participants to identify flavor and intensity.
Correctly identifying the milk off flavor. The intensity of the flavor will be scored as follows.

Milk samples are to be evaluated using the following guide: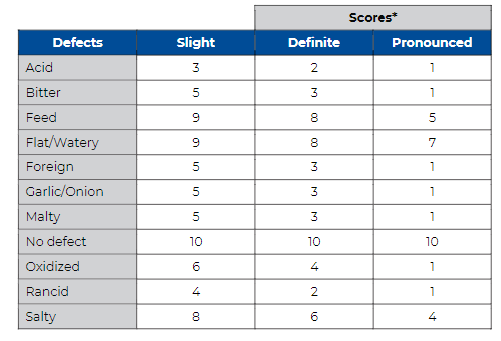 C.  Cheese Identification
Ten (10) cheese samples will be identified.
The cheese samples will be cut into cubes with a cross section displayed on a plate.
Uncolored cheeses may be used.
D.  Real and Artificial
Five (5) samples of real dairy products or artificial dairy substitute foods will be evaluated.
The number of samples will depend upon the availability of resources.
Students will identify whether the items are real or artificial.
This contest scoring is different than other contests. A score of "0" zero is perfect. Incorrect answers will gain points.