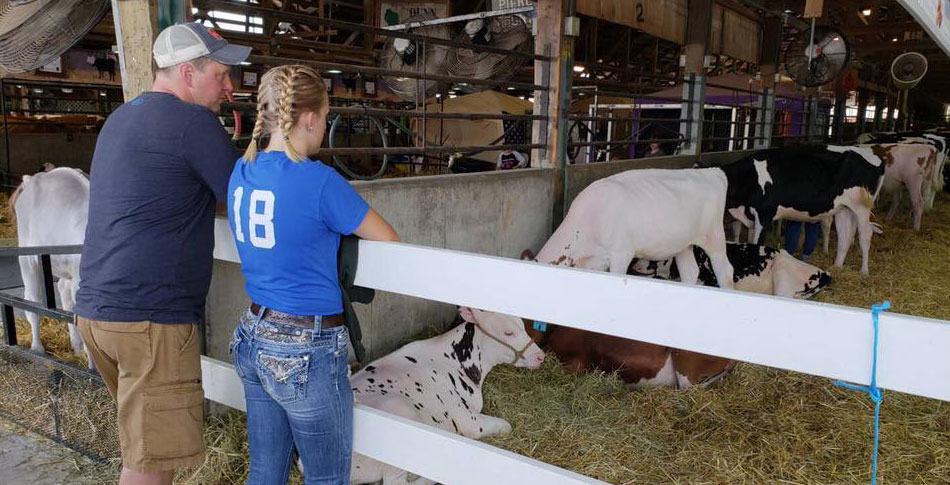 Farm Focus – Tree-Hayven Holsteins
Owned by Adam and Aaliyah Borchert 
With no family farm to call home, I started Tree-Hayven Holsteins by renting a farm in Auburndale, WI, in 1998 at age 18. By 2001, I bought that farm, the surrounding 160 acres of land, and the herd of 55 registered Holsteins. Tree-Hayven Holsteins has more than 31 animals classified as Excellent with the Tree-Hayven prefix. We stand 20th in the nation for breed age average (BAA) for my farm size with a classification score of 111.0.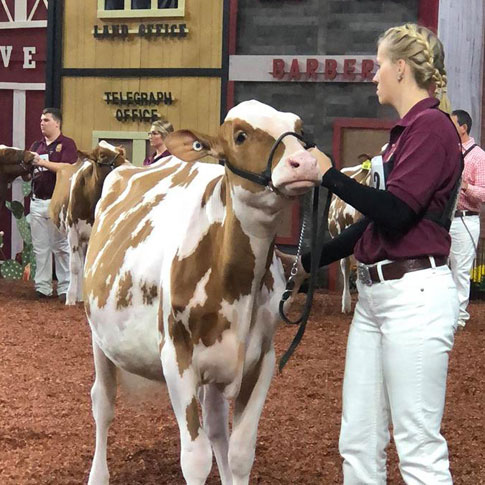 Tree-Hayven prefix is built on proper calf and heifer care, foot health, genetics, and business networking. I purchased my first calf when I was 9-years-old. That calf, Whitetail-Valley Kirk Boy Ruby, eventually became my first foundation dam. I work closely with the young stock every day and have developed a system to minimize calf loss. Clean and dry calves are born in freshening pens with video monitors to watch for calving difficulty. After the initial colostrum feeding, calves get 2 quarts of pasteurized milk twice a day. The pasteurizer helps calves develop the immunities they need and are uniformly stronger. After a few days, calves are offered water and calf starter, and within a week, calves get hay. Animals develop greater rib capacity while fed hay-based diets. The calves are weaned after six weeks of milk consumption. The words "clean" and "ventilated" are key for raising Tree-Hayven livestock. Calves and heifers are housed in temperature-regulated buildings, which also provide better access for routine cleaning and administering vaccinations. While quality heifer care can bring added investment, healthy calves and heifers add to the farm's profitability through private and public sales as well as better performance once in the milking string. Show cattle are typically housed in separate housing to ensure proper and efficient feeding and accessibility for training.  
Marketing for us has also been in the show-ring. Every time you take an animal in the ring it's about showcasing your herd, showing off your "brand". Your brand represents you. This is the reason I have spent so much time and effort into modernizing and improving the farm, so each calf that is born has the best start possible. The show ring has brought my daughter, Aaliyah a lot of success. She shows cattle at the local, district, state and national level. The last two years she was fortunate to earn Junior All-American honors with Tree-Hayven Integral Declan ('17) and Tree-Hayven Daniel Diem-Red ('18). Both of these heifers trace back to Tree-Hayven Peppermint Pati-EX93. The Wisconsin Holstein Association recognized our collective achievement by naming myself and my Tree-Hayven team with the Distinguished Young Holstein Breeder Award in 2017. 
Cow comfort and milking efficiently — The original barn only fit about 40 milking cows. In 2004, I built an addition to the milk barn that allowed me to milk about 30 more head. With this addition, as well as others in the years, increased space per tie stall with loop dividers, three new box stalls, rubber matting for the stalls, as well as the aisle to reduce falls for cows and back comfort for myself, installed 10 fans to increase tunnel ventilation, tiled and raised the front of the cows for ease of sweeping, cleanliness and visualization. Increased lighting throughout and added an office with a space for medications and paperwork. 
We try to raise calves into cows that stand the test of time with an emphasis on leg and hoof care. Older heifers and dry cows have access to pasture to benefit feet and leg health. The cows are housed and milked in a stanchion barn, but they have opportunities for exercise while being fed outside if weather permits. The farm switched from straw to sand bedding in the barn three years ago. There we saw a boost in milk production and improvements in overall foot health. When we just used straw, our cattle had puffy hocks, which can affect the entire cow's health. The cows lay down more in the sand and it reduces the risks of knee and hock injuries. Sand bedding also lowered somatic cell counts and almost eliminated hairy warts, mastitis, and teat-end abrasions on the farm. It is also a cheaper alternative to straw or hay. In addition to having all cows hoof trimmed twice a year, we use a footbath with copper sulfate and water. The solution hardens the hoof and toughens skin in vital areas between the claws, making them more resistant to bacterial infection.  The herd has greater longevity because of ention to feet and legs, so I can sell most animals as replacement dairy cows rather than cull beef cows at any age, prompting a more profitable sale.  
Why Registered Holsteins?  
The Registered Holstein business brings upon it so many benefits. First and foremost, the profit potential. Holsteins produce the greatest amount of milk, fat and protein, lifetime profit and lower SCC compared to other breeds. With today's ever rising farming and associate costs, my milk check is my most important income. The genetic variability is also another factor in my choice of breeding registered Holsteins. The choice of mating's for my cows has greatly increased over the years. This allows me to experiment more with sire selections (type or production), balance my traits better and gain greater genetic variability within my herd. Finally, the selling of registered Holsteins far exceeds that of other breed types and grade Holsteins. Typically, I sell about 10-15 animals on the local dairy market each year as well as show type calves and yearlings at Holstein sales and WI Holstein sponsored sales.  My small investment up front, more than pays for the increased return I get in sale barn. 
Community Involvement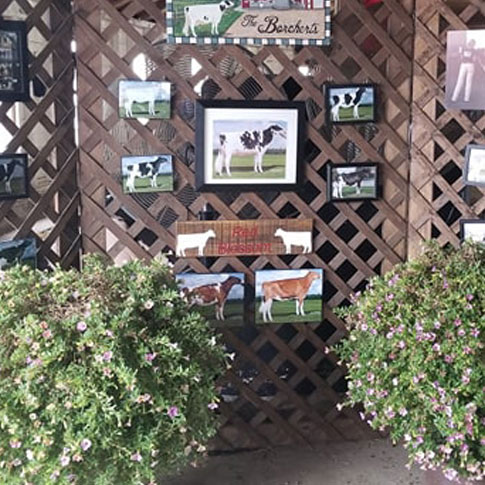 No matter the age or occupation, building relationships with people is crucial. Volunteering allows you to meet a wide variety of people from all sorts of walks of life. I enjoy outside interaction from others. Dairy farming is a 24 hour job. Allowing time to volunteer allows me to escape from the day-to-day routine of being on the farm. It is a healthy boost to our self-confidence, self-esteem, and life satisfaction. You are doing well for others, which provides a natural sense of accomplishment.  
Tree-Hayven Holsteins were awarded the District 4 Holstein Breeders "Cinn-Apple Sportsmanship Award" in 2014 and 2016. This award is given to District members that show leadership and  
volunteerism to the area. Offer youth from non-farming backgrounds project calves for the Central WI State Fair. Provide a safe and educational environment for the kids to learn and love dairy animals. We allow the kids the opportunity to attend the WI State Championship Show and World Dairy Expo to tie in and learn proper ways of feeding and getting ready for show day. Currently there are four families that show cattle from our farm. 
Tree-Hayven Holsteins was selected as a tour site for the 2016 WI Holstein Convention. Approximately 120 Holstein members toured the farm on February 20, 2016.  The farm was a host site for 15 years for judging workouts by the Wood County Dairy 4-H Youth preparing for Area Animal Science Days and hosted the 2008 Wood Area Holstein Breeder Twilight meeting at Tree-Hayven with over 200 people attending.  I have been a guest speaker on "Getting Ready for Show Day" at the 2011 Wood County Dairy and Fitting Clinic at the Central WI State Fairgrounds.  I facilitated and hosted the 2012 Wood County Dairy Fitting Clinic for 42 4-H, FFA and Junior Holstein Youth.  I have consigned AND purchased cattle at the Purple Ribbon Calf Sale for 14 years.  Tree-Hayven has consigned animals to the WI Convention Futures Sale. Money raised from this sale is used for events sponsored by the WI Holstein "Young Adults Committee".   We allow youth that ask, the opportunity to use Tree-Hayven animals for the WI Holstein Showmanship contest as well as for the World Dairy Expo Showmanship Contest.  I have supplied Registered Holsteins and Jerseys for UW-Extensions STATE 4-H Dairy Judging Contest in Marshfield, WI for four years. (2010-2015).  I invite local banks and agriculture related business to come out to tour the farm. They are interested in new technologies, buildings and grounds. 
From improving milk production to breeding cows with higher classification scores, I am constantly creating new goals. We can always do better. My success thus far came from testing new on-farm practices and seeing what takes the herd to the next level, all while remembering what the farm looked like 20 years ago.