Finance Your Future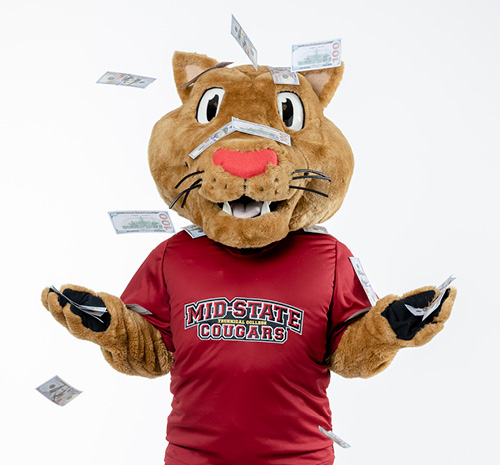 Location
Multiple Locations
Learn more about how to finance your education while attending classes at Mid-State!
Come to your nearest Mid-State campus to meet representatives from Mid-State and the community and learn more about how to fund your dream of a college degree, whether you're already a student at Mid-State or looking to become one. 
Questions are encouraged!
Attend to learn:
The total cost of your education with Mid-State and related expenses you will want to plan for.
How to create a personalized financial plan to help pay for your education. 
Where to find your student bill and options for payment, including payment plans and online payments. 
How to apply and accept your financial aid award, and the difference between the types of financial aid assistance.
How to access community resources to help offset the cost of education such as WIOA, FSET, Skills Enhancement, and UMOS. 
What scholarship opportunities are available through the Mid-State Technical College Foundation, and what additional resources are available to help in emergency situations. 
All attendees will be entered for a chance to win a $250 scholarship!
Register
Register by location at the links below:
Marshfield Campus
Monday, August 1
6:00 – 8:00 p.m.
Wisconsin Rapids Campus
Tuesday, August 2
1:00 – 3:00 p.m.
Stevens Point Campus
Wednesday, August 3
6:00 – 8:00 p.m.
Questions?
Contact Shawn Zee or call 715.389.7015.
If you have a disability and require accommodations to participate in this activity, contact the event coordinator as soon as possible.
 
All Events