Wisconsin Writers Connect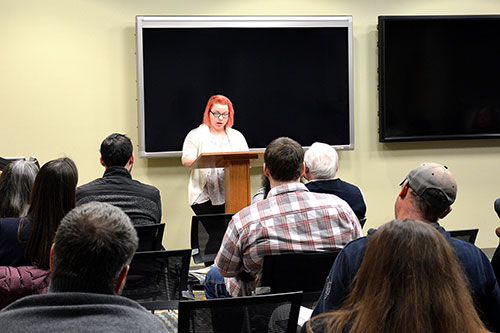 Location
Stevens Point Campus - CER 635
Hear from Great Authors—Support Student Writers
Come out to hear Wisconsin authors read from their works during this special evening with renowned authors Matt Cashion and Jeff Snowbarger. We'll also celebrate the winners of our student writing contest, Write on the Money. 
Refreshments provided.
Date: Thursday, April 14, 2022
Start Time: 6:30 p.m.
Location: Stevens Point Campus – CER 635
Author Presentations – Matt Cashion and Jeff Snowbarger
Matt Cashion will read from his last novel, Our 13th Divorce, winner of the Edna Ferber Book Prize from the Council of Wisconsin Writers. Jeff Snowbarger will read from his work exploring American myth.
Student Awards
After reading, the writers will present the student winners of Mid-State's Write on the Money Contest with their awards. The student winners will also have the opportunity to read from their winning entries. Winners and finalists who have agreed to publication of their entries will be showcased in a digital magazine to be shared with the Mid-State student body and used in Mid-State writing classes.
Author Bios
Matt Cashion
Matt Cashion is a professor of creative writing at UW–La Crosse. The author of three books, his novel Our Thirteenth Divorce won the 2017 Edna Ferber Book Prize, and his story collection, Last Words of the Holy Ghost, won the 2015 Katherine Anne Porter Prize. Other work has appeared in The Sun, Willow Springs, Grist: A Journal for Writers, Carolina Quarterly, Cutleaf, Moon City Review, Passages North, storySouth, The Writer's Chronicle, and elsewhere. Born in the North Carolina mountains and raised in coastal Georgia, he earned an MFA from the University of Oregon and has also worked as a journalist, bartender, piano mover, and third-shift convenience store clerk. Since 2006, he has enjoyed hiking, biking, skiing, snowshoeing, kayaking, and running through the beautiful Driftless region of western Wisconsin. 
Jeff Snowbarger
Jeff Snowbarger was featured in Tin House as their New Voice in Fiction, and Best American Short Stories 2010 declared his story "Bitter Fruit" one of the year's notable publications. He has recently published in Slate Magazine. He is a graduate of the Iowa Writers' Workshop where he received the Truman Capote Fellowship and served as a distinguished Post-Grad Teaching Fellow. At UW–Stevens Point he teaches advanced fiction, intro to creative writing, and freshman and sophomore English. 
 
All Events