Manufacturing Fidget Toys – 3D Printing and Design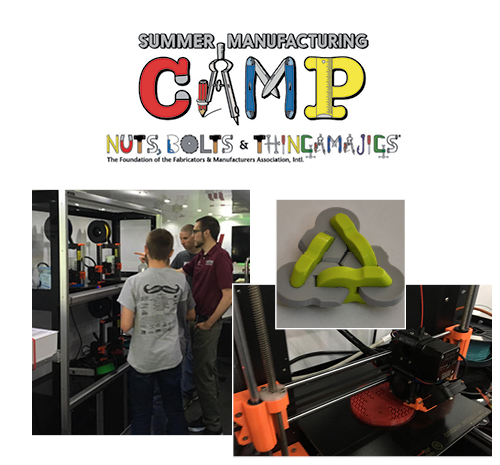 A Summer Engineering and Manufacturing Camp
August 3 – 8
Manufacturing Fidget Toys – 3D Printing and Design is a Mid-State Summer Engineering and Manufacturing camp that introduces middle and high school students to exciting career choices in today's engineering and manufacturing industries and introduces entrepreneurial concepts and skills.
In this camp you will have the opportunity to try your hand at computer-aided drafting and slicing as you prepare to have your very own designs produced on a 3D printer. You will explore different types of 3D printing technologies and applications of additive manufacturing, as well as learn about local businesses that use 3D printing.
While this camp will be held remotely, we have a lot of exciting, hands-on activities planned that can be completed at home. Students will have the opportunity to watch their projects print via live-stream as well as through an in-person viewing opportunity on the Mid-State Wisconsin Rapids Campus.
A computer with an internet connection is needed to attend this camp.
Made possible through a generous contribution from Nuts, Bolts & Thingamajigs® (NBT), the charitable foundation of the Fabricators & Manufacturers Association, International® (FMA), which supports individuals in discovering their interest in manufacturing, engineering and STEM, and to encourage the pursuit of a manufacturing career.
Weekly Camp Schedules
Depending on the camp, the first hour, at least the first hour of each session will be live online. A portion of each class session time may be offered as open lab time where the student will have work time with an open connection to the instructor.
Optional online office hours are available for students to have further discussion on camp topics and to ask questions or get assistance. Outside of scheduled online time or optional online office hours, instructors will be available by email or voicemail.
Camp fee: $89
Register
Apply for Scholarships
View All Camps
Schedule
Monday, August 3
Online time: 1:00 – 4:00 p.m.
Optional online office hours: 5:00  – 6:00 p.m.

Tuesday, August 4
Live Online: 5:30 – 8:00 p.m. 

Wednesday, August 5 
Optional online office hours: 9:00 – 10:00 a.m.
Optional online office hours: 5:00 – 6:00 p.m.

Thursday, August 6 
Live Online: 5:30 – 8:00 p.m.

Friday, August 7
Optional online office hours: 9:00 – 10:00 a.m. 

Saturday, August 8
Live Online: 9:00 a.m. – Noon
If you have a disability and require accommodations to participate in this activity, contact the event coordinator as soon as possible, ideally 14 days in advance.
 
All Events