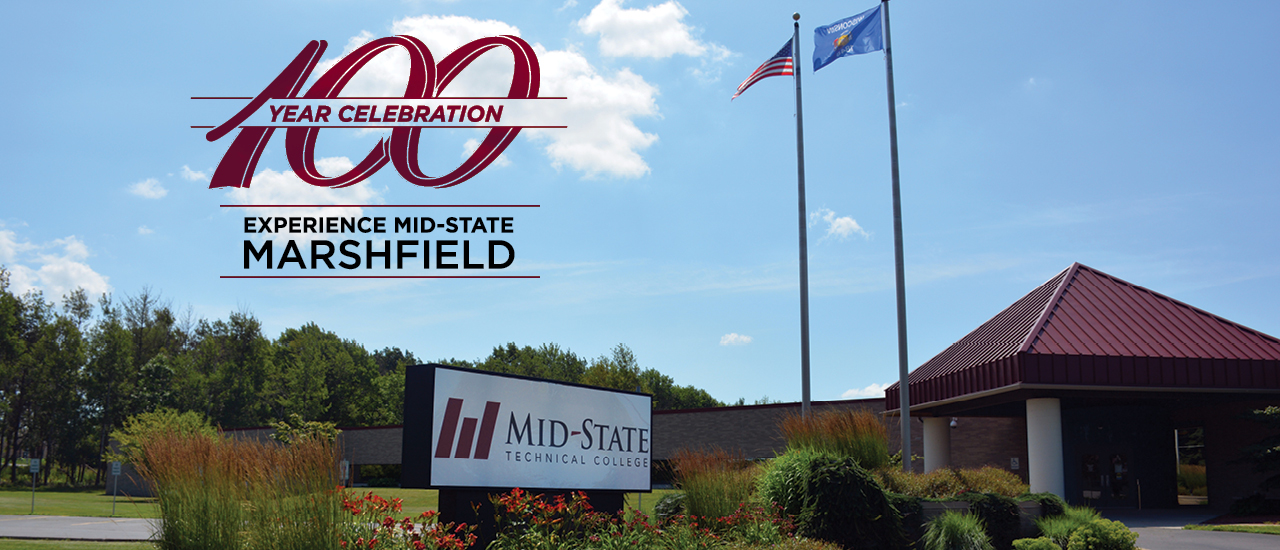 Marshfield Campus 100-Year Anniversary Celebration
Experience Midstate as we celebrate the 100th anniversary of our Marshfield Campus!
Back in 1918, Marshfield's city council appropriated money to build a new vocational and junior high school building. When the building was completed and occupied in 1920, Mid-State's presence in the Marshfield community began.
Today, the success Mid-State has enjoyed in Marshfield is a point of pride. As we pay homage to our history and look forward to the future, we want to thank you and invite you to experience Mid-State—past and present.
Follow the Experience
Share your experience with Mid-State in Marshfield using the hashtag #ExperienceMidState, and tag us on Facebook (@MidStateTech) and Twitter (@FollowMSTC). Like and follow to keep up with the party!
Activity Challenge
Join the Marshfield Campus 100-Year Anniversary Activity Challenge! Each participant will sign up for a 10, 50, or 100 mile challenge that can be completed by running, walking, swimming, biking, or any other way of logging miles.
Sign up is free.
All ages are welcome. 
Each participant will receive a free Mid-State T-shirt!
Register now through the end of April, and log your miles May 1–31.
Enter to Win the $500 Grand Prize Gift Basket
In August 2021 we'll give away a gift basket of Mid-State merchandise valued up to $500. Enter below for your chance to win the basket.
Other Ways to Participate:
Take a class or participate in a continuing education enrichment course.
Snap a selfie wherever you see Mid-State logos in the Marshfield area, and tag us on Facebook and Twitter. Don't have social media? Just email your picture to recruitment@mstc.edu.
Keep an eye out for Mid-State at local shops and community events.